Police And Driver At Odds Over Whether This Overtake Is Dangerous - Who's Wrong?
11 October 2017, 13:32 | Updated: 11 October 2017, 14:29
A driving instructor has been left furious after police said his dashcam footage of a double-overtaking vehicle was not dangerous. But who do you think is wrong?
Gerry Harrington claims the Nissan Juke driver came within "half a second" from killing himself and the driver in an oncoming car.
The grandfather-of-six was so unnerved by the manoeuvre that he submitted it Norfolk and Suffolk Police.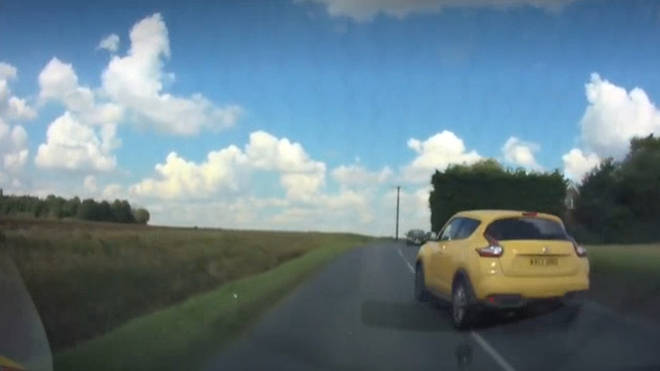 However, the force's roads policing unit disagreed, after they responded in writing saying the offending driver "did not inconvenience any other drive and did not present danger to anyone".
The letter read: "At the point at which the Nissan was alongside your vehicle, the on-coming vehicle becomes visible.
"This means that the Juke is committed to its manoeuvre at that point. The on-coming vehicle does slow, however there is no sign from that driver that they felt inconvenienced by the action, i.e, flashing of lights.
"I regret to say that as the evidential threshold has not been met on this occasion, we are unable to take any further action."
The response left the Mr Harrington irate as he vowed never to submit dashcam footage to police again saying the manoeuvre near a blind bend on a country road was "10 out of 10" dangerous.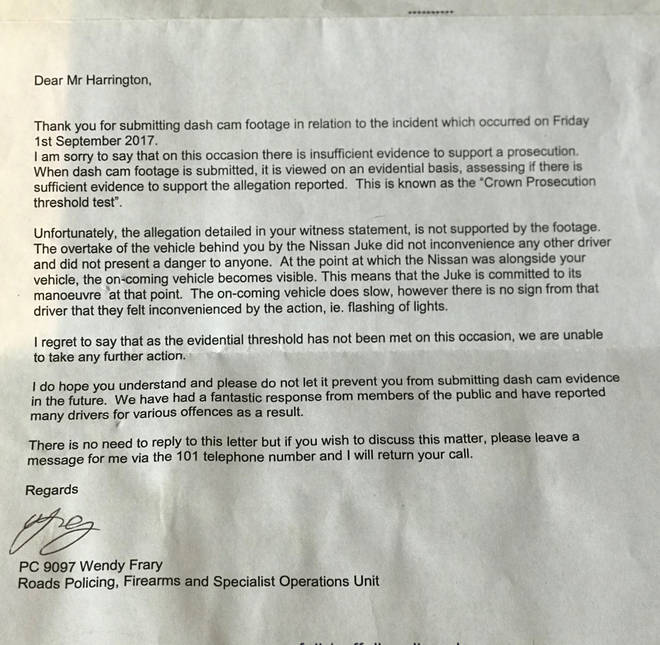 The 56-year-old claimed he "did the job" for the police by capturing the incident at about 13:50 on September 1.
He said: "Do they want bodies? Do they want to see carnage? Is that when they only take action, when someone is killed?
"This is police hypocrisy - if that had been a police car I was driving or the oncoming car was a police car I would be aghast if they never took action themselves.
"To me they are looking for an easy way out and they can move their resources elsewhere."
Watch the dashcam footage above and see if you agree.