Reckless Driver Spun 180 Degrees After Attempting Dangerous Overtake
6 December 2017, 16:30 | Updated: 6 December 2017, 16:33
Dash cam footage has captured the moment a reckless driver was spun 180 degrees after attempting a dangerous overtaking manoeuvre at a junction.
Joe Walker recorded the damning video which shows the Vauxhall Corsa speeding past his car before suddenly the drivers realises their make.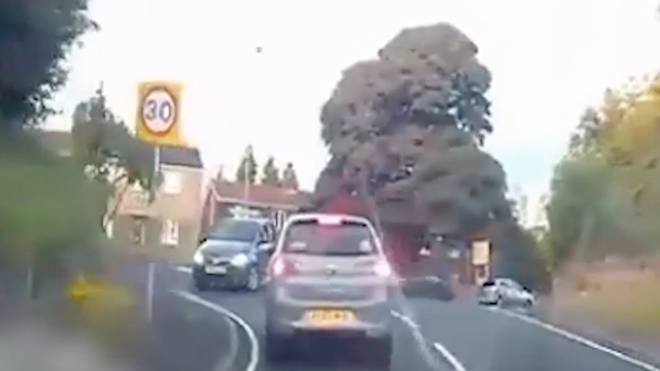 The motorist is then seen spinning around in front of oncoming traffic on Greasbrough Lane in Rotherham, South Yorks.
The 20-year-old witness said: "It was a national speed limit road and I had a black box at the time so I was sticking to the speed limit.
"The car came flying past mine, they must have decided to overtake for whatever reason.
"They must not have realised it was a junction and thought 'Oh c***!'
"There is an entrance to a graveyard right next to where they spun around so it could have been a very different story if anyone would have been coming out of there."