Rented Ferrari Destroyed Moments After Leaving Dealership
26 June 2018, 10:59 | Updated: 26 June 2018, 11:44
A rented Ferrari was destroyed when it skidded uncontrollably across a wet road into oncoming traffic.
The moment a brand new Ferrari was destroyed as it smashed through a barrier was caught on camera.
The driver filmed herself admiring the car as she waited at a junction, and said it was the first time she'd driven a Ferrari.
"This truly is the most amazing feeling," she said on camera.
But moments later the sports car skidded uncontrollably across the wet road, through a barrier and into oncoming traffic.
Traffic cameras captured the 'racing red' coloured car sliding across the wet road and driving into the side of an unsuspecting 4x4.
The white BMW was then shunted into another car, leaving the road in carnage.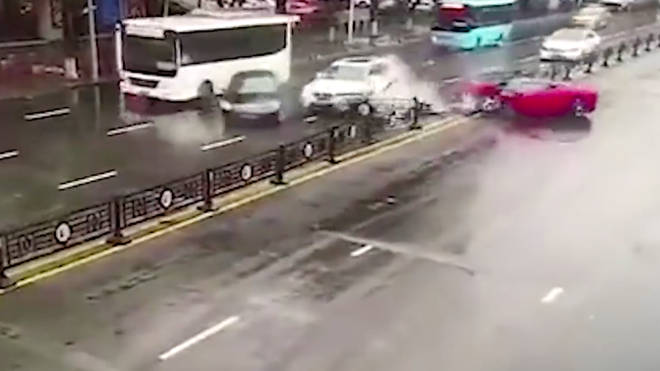 Eagle-eyed motorheads will notice the dashboard showing the Ferrari 458 set up for 'highest safety in all conditions', but that wasn't enough to stop this motorist aquaplaning across three lanes.
Witnesses filmed the aftermath of the crash, which left the sports car unidentifiable from the front.
Video shows the front wheels were also flipped backwards and the airbags deployed, as other cars also sustained heavy damage.
Watch the incredible footage above.