How HS2 Is Affecting Communities... Before It's Even Built
29 September 2016, 15:24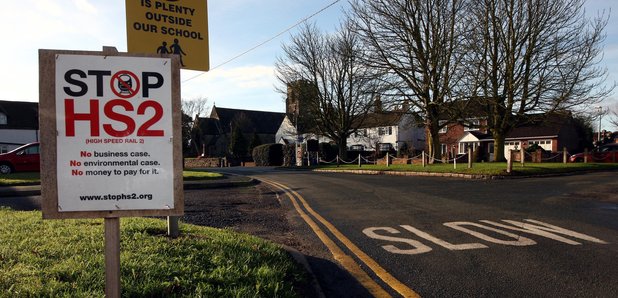 LBC's Huw James lives next to the line HS2 will use in Buckinghamshire. He tells us how it has affected the community - even before any construction has even started.
I bought my house in 2007. It's in a village called Calvert in the middle of nowhere in Buckinghamshire. The village itself is about 15 years old – it's 3, 4 and 5 bedroom houses built on a disused brick works but tends to be deserted in the day as people commute to Milton Keynes, Aylesbury or Oxford.

We only got a shop 3 months ago and the broadband is a joke. The joys of rural, peaceful living.

I'm writing this in my garden right now – when I bought the house there was a field just over the fence here with the railway line at the far end of it. The rail line was used for bringing in waste to the landfill site just up the road. You'd get the very occasional rumble from the rail line of trains going very slowly while they were unloaded.

Nobody on the estate had any idea HS2 was being considered when we bought the house.

It was back in 2009 that it was first suggested by the then Labour Government – you can imagine how that went down in a constituency where the local MP is the House of Commons Speaker John Bercow. Let's just say they tend to weigh the Tory vote around here.

Locally people started getting agitated – boards appeared with Stop HS2 on then and a number of public meetings were organised.

Honestly I thought it was going to be one of those pie-in-the-sky ideas that would probably quietly disappear as quickly as it appeared so I didn't pay TOO much attention to it.

When the coalition took office in 2010, I figured that would be the end of it. Nope. More meetings, more protests, more action groups, and more placards. Now we knew the proposed route was at the end of the field at the back of my garden.

Again, I wasn't too concerned – it would be a couple of trains an hour going incredible fast so they'd be past in a matter of seconds. And I'm in work in the day so it probably wouldn't bother me too much.

Then we started seeing "For Sale" boards going up around the estate. But now the route had been announced, it was MUCH harder to sell. Prices starting falling.

In 2012 we decided to move – though not because of HS2. My wife has MS so a 3 storey house was a bit of a waste! We put the house on the market and in six months had one viewing. So that plan was abandoned. And it wasn't just us. Other people's "For Sale" boards stayed firmly in place.

We decided we'd stay put.

HS2 had sent us so many booklets, leaflets and pamphlets that we could have a decent bonfire if we wanted. And the bottom line is they will give us some money. Our house sits in the 'blighted' area so when it all goes through, they will apparently give us up to £15,000. Which is very nice. Thank you very much indeed. Maybe I can use it to install a lift so my wife can get up to the top floor of our house.

And as for the field behind my house between us and the railway line. Well, developers have now built about 50 new homes there. And I bet everyone who bought a house there has been left in no doubt that high-speed trains will be passing metres from their homes at some point in the future.

Like buying a house under the flight-path at Heathrow, you can't buy one and then claim you knew nothing about the planes.

Maybe I'll use the HS2 compensation for triple glazing like them.