The Creepy Clown Phenomenon Sweeping The UK
11 October 2016, 07:10 | Updated: 12 October 2016, 07:58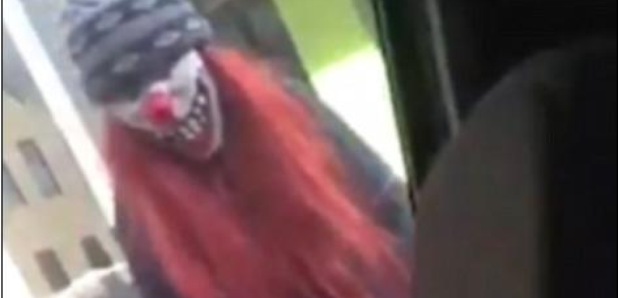 More and more people are complaining of frightening clowns appearing across the UK... with one even trying to get into a young lady's car.
People in clown costumes have been hiding and jumping out at people in a craze that is spreading and police have warned people they risk being jailed if caught.
On Sunday, Thames Valley Police said they were called to 14 clown-related incidents in 24 hours.
Shaniece Price was filmed screaming as this terrifying clown attempted to get into her car on the High Street in Bloxwich.
WARNING: Tweet contains very strong language.
Still traumatized from my clown experience. Imagine this cunt trying to get in your car with a knife so close to writing my car off pic.twitter.com/R35vZiijtn

— Shaniece Price (@shanieceprice) October 9, 2016
One spooky clown has been spotted in Sheffield... riding down the street on a mobility scooter.
Sheffield car salesman Justin Martin Lee posted the eerie footage on Facebook and it has been viewed over 25,000 times.
His video shows the clown speeding along the the A61 on the way into the city centre.
The sighting comes after a series of scary clown pranks in the US, which has led to UK police warning the public.

Northumbria Police issued an warning after a series of incidents in Newcastle involving people dressed as clowns jumping out and scaring schoolchildren.
A 13-year-old boy was arrested in the area on Tuesday following reports of someone dressed as a clown attempting to scare passers-by.

Video: SWNS
Another clown has been chased away by a man with a beer bottle in Plymouth.
Other clowns have been spotted, such as this freaky clown, walking down the street in Manchester.
Coz The Clown - aka David Rotherham - pictured below, told LBC it was affecting his livelihood.