Chakrabarti Defends Corbyn Over Anti-Semitism
30 June 2016, 16:13 | Updated: 12 August 2016, 09:28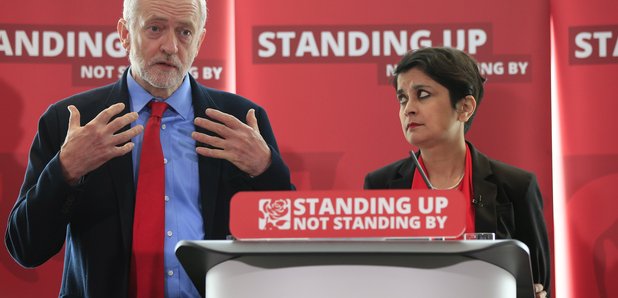 The launch of Labour's anti-Semitism inquiry was hit by more controversy today - here, the chair Shami Chakrabarti defends Jeremy Corbyn's behaviour.
In the latest of a string of remarkable days that Corbyn himself has called "torrid", the launch of the inquiry saw one MP leave in tears and criticism of the Labour leader's own comments.
Chakrabarti joined Shelagh in the LBC studio shortly after and spoke about Corbyn, the harrassment of the MP Ruth Smeeth who left the room visibly upset and the future of Labour.
"He read it yesterday evening, he had no editorial control," said Chakrabarti of Corbyn.
"What was so important was he said: not in my party, not on my watch, not in our name. I hope that will be heard by his critics and his supporters alike.
"I'm sorry that there are a few things that have been spun in the media...have kind of cast a shadow over two months' really hard, open-hearted work."
Jeremy Corbyn sparked more reaction when his comments were reported as linking the Israeli government to Islamic State.
Chakrabarti also dealt with that, saying: "I learned something today.
"I'll take my chances in the broadcast media...if things get spun in print, whether in the old-fashioned papers or online. Trust your ears or your eyes...it's harder to spin in broadcast than it is in words.
"I read the leader's speech five minutes before we went into the main room...I listened very carefully to what he said.
"He reflected my report."
"His point was: when you have Jewish neighbours or friends, or Muslim neighbours or friends and something bad happens in the world, don't ask them to be the first to explain or defend or condemn.
"It's not their fault. They are feeling just as bad as you."