Zac Challenged On 'Islamophobic' Campaign
22 April 2016, 14:37 | Updated: 26 August 2016, 10:13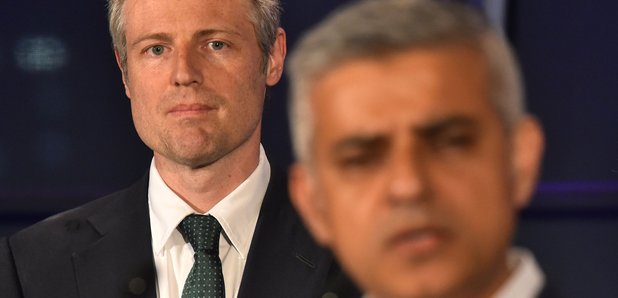 LBC's Theo Usherwood took Tory mayoral candidate to task about some the allegations he has made about rival Sadiq Khan, which people have branded 'Islamophobic.'
Zac has come under fire for comments by himself and PM David Cameron accusing Labour rival Sadiq of links to extremists.
Theo joined James O'Brien and explained how the attack on Sadiq may have backfired. Suliman Gani, who was branded 'extremist' told LBC that he had campaigned for the Conservatives.
He says he campaigned for Dan Watkins, Tory candidate for Sadiq's seat in Tooting at the last election and has also attended events with health minister Jane Ellison - the MP for Battersea. This raises issues for Zac who branded Gani "one of the most repellent men in Britain."
Theo put these connections to Zac, when he joined him campaigning in Fulham. "I think Labour are trying to muddy the waters. Politicians do go to events and people do turn up at these events," Zac said.
The PM alleged that Gani supported the group know as ISIS, but Theo said he had seen flyers for events titled the 'evils of ISIS' where Gani was a named speaker.
But Zac did not back down on his allegations that Gani was an 'extremist.' Theo grilled him on why members of his own party appeared to have shared a platform with him.
"Speaking at a public meeting where members of the audience have views which are repellent is one thing, speaking on a platform, alongside people who have those views is very different."
Listen as Theo takes Zac to task about the inconsistencies in his allegations against Sadiq.
Team Zac Respond
Team Zac 2016 have responded to Gani's allegations saying; "Dan Watkins categorically denies that Suliman Gani campaigned for him in any capacity or endorsed him in any way.
"They met once during the General Election campaign, at a meeting of Muslim community leaders at the Gatton Road mosque. It was not a one to one meeting and no offers of support were made or accepted."
"Dan Watkins supported the Government's legislation on same sex marriage, a policy Suliman Gani strongly disagrees with."
"Dan Watkins, with the Conservative Muslim Forum, organised a public meeting in Tooting in November 2015 where anyone was free to attend."