Woman Who Led Children To Safety During Attack Dubbed 'The Angel Of Manchester'
23 May 2017, 13:19 | Updated: 23 May 2017, 13:42
A woman who escorted 50 teens to safety following the Manchester terror attack is being hailed as ''The Angel Of Manchester'.
Paula Robinson, 48, was at Victoria train station next to the Manchester Arena when what is thought to be a bomb killed 22 people, and injured 59 others.
She posted on her Facebook page to say she had taken about 50 children to a nearby Holiday Inn to keep them safe until they could be put in touch with their parents.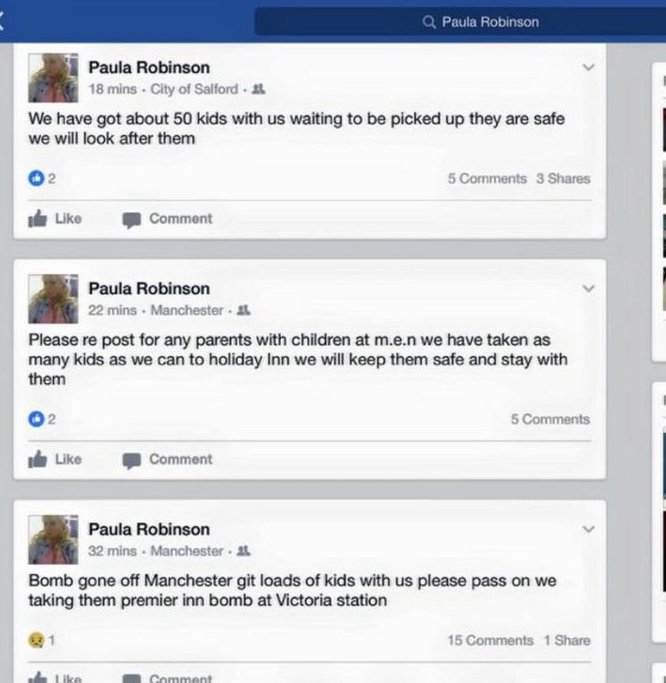 The Good Samaritan, from West Dalton, then circulated her phone number, so that concerned parents could get in contact.
Mrs Robinson, who was with her husband at the time, wrote online: "It was literally seconds after the explosion. I got the teens to run with me.
"We have got about 50 kids with us waiting to be picked up, they are safe we will look after them.
"Please repost for any parents with children at M.E.N. We have taken as many kids as we can to Holiday Inn. We will keep them safe and stay with them."
Just read about the incredible lady Paula Robinson who led so many youngsters to a safe place last night
What an amazing person #Hero

— Adam Brooks (@EssexPR) May 23, 2017
People on social media have hailed her as an angel for coming to the children's aid.
Paula Robinson is an angel among us. Thank you for being so brave and jumping into action to keep these children save. https://t.co/coU3Xa3pR6

— Elena Kouretsos (@elenakouretsos) May 23, 2017
Paula Robinson is an angel. To be a face of compassion in the face of this horror is everything. https://t.co/v7mnCLGa5Q

— stephanie tobor (@StephTobor) May 22, 2017
Paula has since left the children and has asked that people ring the appropriate authorities.
Have spoken to Paula Robinson who took 50 children to Holiday Inn Manchester. She asks people to stop ringing her mobile number (1/2)

— Daisy Wyatt (@daisy_wyatt) May 23, 2017
May 23, 2017