This Photo Of Women Shopping In Pyjamas Has Divided Opinion
6 January 2017, 11:57 | Updated: 6 January 2017, 12:44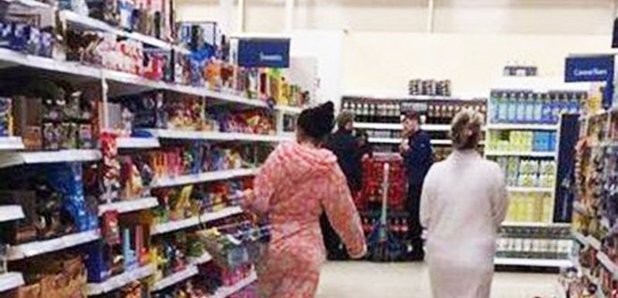 A Tesco shopper recently posted this photo to the supermarket's Facebook page, branding the two women 'disgusting'.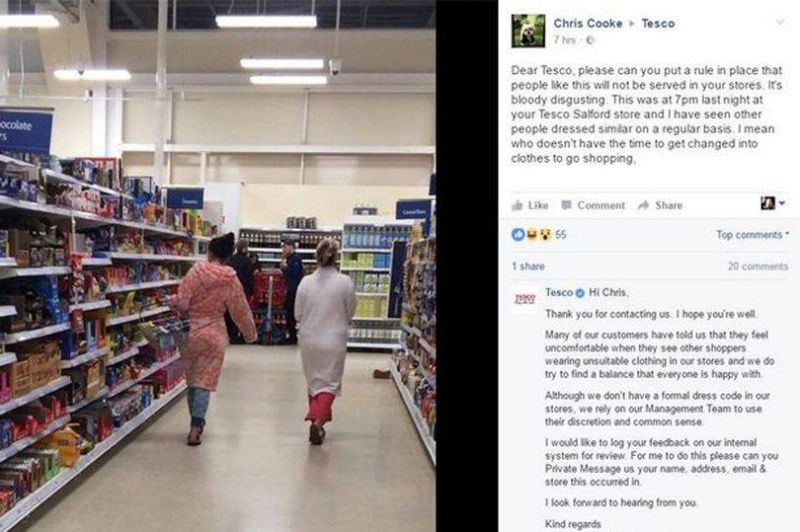 Photo: Joel Brackenbury/Facebook
The disgruntled customer, Chris Cooke, was shopping at a Tesco store in Salford when he snapped the two women wearing their pyjamas.
In a Facebook post which has since been deleted, Chris complained to the supermarket, asking for them to avoid serving customers dressed in such a way.
He said: "Dear Tesco, please can you put a rule in place that people like this will not be served in your stores. It's bloody disgusting. This was at 7 pm last night in your Tesco Salford store and I have seen other people dressed similar on a regular basis. I mean who doesn't have time to get changed into clothes to go shopping."
A Tesco representative on the Facebook account, Rukshana, responded: "Many of our customers have told us that they feel uncomfortable when they see other shoppers wearing unsuitable clothing in our stores and we do try to find a balance that everyone is happy with.
"Although we don't have a formal dress code in our stores, we rely on our management team to use their discretion and common sense."
The photo has since circulated on social media, with some people defending the women.
I think as long as you're wearing appropriate footwear for safety reasons it shouldn't be be an issue @Tesco @sainsburys @waitrose #pyjamas

— Coffee Fuelled (@_coffeefuelled) 6 January 2017
Go to Tesco in your pyjamas. It's fine.

— Oliver Fox (@olliefox) 6 January 2017
James O'Brien discussed the photo on his show today, prompting others to share pictures of people shopping in their pyjamas.
@mrjamesob before Christmas with the children pic.twitter.com/UVZ3GY3EMq

— Paul Lloyd (@paullloyd1) 6 January 2017
@mrjamesob won't happen in Bushey Herts NOW!! pic.twitter.com/retbwY744s

— sandi (@frozenstolly) 6 January 2017