Royal Mail's Identity Theft Advert Banned For Being "Too Scary"
15 November 2017, 10:16 | Updated: 15 November 2017, 11:12
An advert for Royal Mail designed to raise awareness of identity theft has been banned for being "too scary".
The "excessively threatening and distressing" video shows a gang of men in balaclavas armed with baseball bats enter a bank shouting: "This is a robbery".
Staff and customers in the bank are made to get on their knees with their hands held up. One female member of staff was grabbed repeatedly and asked her full name and date of birth by one of the raiders.
Throughout the scene members of the public, including a child, were shouted at aggressively by the assailants, with some appearing scared and others crying.
The advert - entitled 'Heist' - was shown on ITV Player during an episode of Coronation Street, causing seven viewers to complain.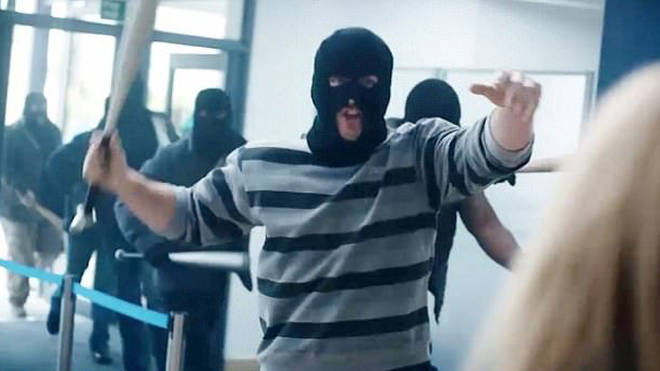 The Advertising Standards Authority said: "We considered that the overall presentation of the ads, as seen by the complainants, was excessively threatening and distressing to the extent that it overshadowed the message the ad intended to convey.
"We concluded the ad was likely to cause fear and distress to viewers, in particular to victims of violence, without a justifiable reason.
"We told Royal Mail to ensure that in future their ads did not cause fear or distress without justifiable reason."
A Royal Mail spokesperson responded: "Royal Mail apologises for any offence that this advertisement may have caused. We accept the decision and will continue to work with the ASA in future. The advertisement appeared on social media and Video On Demand over a number of weeks in the summer, before the campaign concluded."