Divorce, Illness: The Six Unintended Consequences of Southern's Strikes
9 December 2016, 09:26 | Updated: 13 December 2016, 08:01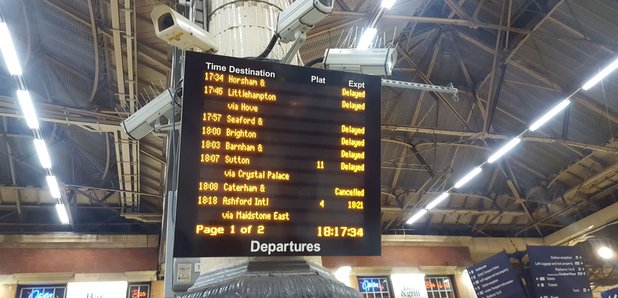 The chaos of Southern Rail has caused misery for millions of commuters in 2016. And many have had their lives affected by the terrible service.
- Southern Rail: Why The Row Could Go On For Years
Govia Thameslink, Southern's parent company, want drivers to be responsible for opening and closing the doors, with the role of guards downgraded. That has led to a series of strikes, while even outside of the industrial action, hundreds of trains every week have been cancelled or severely delayed.
Next week, the drivers union Aslef are going on strike and that is expected to cause the worst disruption yet.
That will leave commuters unable to get to work. But the effects have been even worse than that over the last year. Here are the consequences of the Southern Rail fiasco.
People have got divorced
Blogger David Boyle revealed one couple have divorced because of the strain put on their marriage because of the appalling train service on their line. It is understood that the couple have a young baby and the husband is so late so often that the marriage fell apart.
Patients are giving up vital cancer treatment
A cancer patient told The Daily Telegraph that the continuing industrial action on Southern Rail had forced him to withdraw from a cancer drug trial as he simply could not guarantee he could attend appointments.
People are having job offers withdrawn
One Southern Railway passenger had her job offer withdrawn after her prospective employer discovered she would be relying on the strike-hit service to get to work. This is according to her MP, Nick Herbert.
Workers are being sacked for being late
There are numerous reporters of workers losing their jobs because their trains were continually cancelled. One man, Lee Fenton, said his train was cancelled on the first three days of a job, meaning bosses felt he was unreliable.
House prices are slumping
The cost of a house along the Southern Rail line has fallen by an average of 0.4%, while across the country, house prices have actually risen by 2.4%.
Lack of sleep
A security guard at a hospital told LBC that his journey is now 90 minutes longer each morning, meaning he is getting just four hours sleep.