Donald Trump Revives Discredited 'Pigs Blood' Myth In Spain Attack Response
18 August 2017, 08:17 | Updated: 18 August 2017, 08:20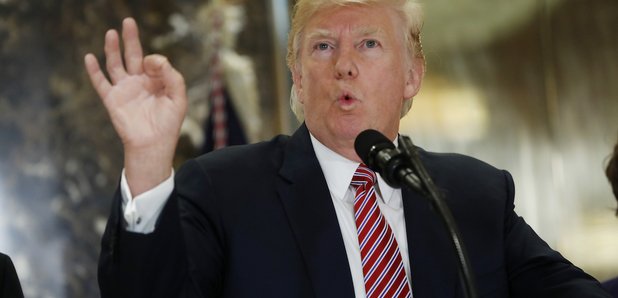 The President said that the west should look at a US general from 100 year ago who was said to dip bullets in pig bloods before shooting Islamist terrorists.
Trump made the reference to the story in a tweet hours after an attack in Barcelona where a van drove into a crowded area, killing 13.
Study what General Pershing of the United States did to terrorists when caught. There was no more Radical Islamic Terror for 35 years!

— Donald J. Trump (@realDonaldTrump) August 17, 2017
He was referring to a story that said while dealing with Muslim attackers in the Philippines in 1909, General Pershing ordered his men to dip their bullets in pigs blood before executing 49 out of 50 prisoners, with the last man allowed to live to tell people what happened.
This story has been circulating since 2001 and his been widely discredited as a myth.
Trump's tweet referencing the story followed an earlier, more measured tweet offering support to Spain.
The United States condemns the terror attack in Barcelona, Spain, and will do whatever is necessary to help. Be tough & strong, we love you!

— Donald J. Trump (@realDonaldTrump) August 17, 2017
Leaders from around the world have expressed condolences and solidarity with Spain after the country was hit by two attacks in Barcelona and Cambrils on Thursday afternoon and Friday morning.
Theresa May said her thoughts were with the victims and the security services responding to the attacks, saying: "The UK stands with Spain against terror."