Senior Corbyn Advisor Says Terror Attacks Are "Minute" Compared With War On Terror
5 March 2019, 07:41 | Updated: 5 March 2019, 10:11
A senior advisor to Jeremy Corbyn has said that the terror attack at the offices of Charlie Hebdo in Paris in which 12 people were murdered was "minute" compared with the 13-year war on terror.
The video of Andrew Murray speaking at a Parliamentary briefing in January 2015, shortly before Mr Corbyn became Labour leader.
He told the audience: "Of course we condemn the barbarism in the attacks in Paris, the attack on journalists and the hideous anti-Semitic attacks.
"But we also need to say the barbarism that we condemn in Paris is minute compared to the barbarism wrought by imperialism across the planet in the last 13 years and we must condemn that barbarism."
He went on to say: "The greatest danger the world faces is not terrorism. It is imperialism. And when we deal with the greater problem, the lesser one will start to evaporate."

Later in the conference, Mr Murray said: "I think we should be very very careful about ever thinking about giving any of our rules any sense of legitimacy for their wars.
"There are circumstances in which wars are unavoidable - and indeed are legal if one is threatened with aggression or subject to aggression and in circumstances regarding genocide. None of these criteria have been met in any of the wars we have been talking about.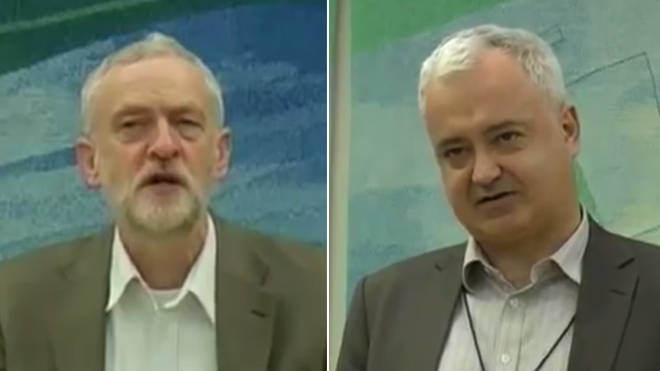 "Moving off that principle simply empowers the stronger nations of the world, America and Britain, the right to intervene where they want in their own interests.
"All these wars, and I do not make an exception for the former Yugoslavia, have made matters far far worse and we should not ever give our rulers the licence to go to war unilaterally."

Bob Seely, a Conservative MP who sits on the Foreign Affairs Select Committee, was asked whether terrorism or imperialism was the bigger concern and responded: "I would say terrorism.
"I think these are disturbing and unpleasant. I think it shows how much the leadership of the Labour Party has tried to change the culture of the Labour Party. There are some very significant questions, not only about Corbyn, but about the people around him."
Responding to Mr Murray's comments about the former Yugoslavia, Mr Seely added: "When you are using the same arguments as Isis or The Kremlin consistently, I think there is a problem.
"Whether you are implying the murder of 8,000 Muslims doesn't qualify as genocide, I think that's an incredibly weak argument, if that if what he was saying.
"To imply a moral equivalence between the accidental killing of civilians and the deliberate targeting of people on the streets of London or Paris I think is a
A Labour source said they do not comment on staffing matters.
Mr Murray is a former member of the Communist Party of Britain and now he is one of Jeremy Corbyn's most senior advisers within the Labour leader's inner circle.
Last night, it was confirmed the adviser's daughter Laura has been appointed to the unit within the Labour party handling anti-Semitism complaints.
Twelve people were murdered in the terrorist attack on the offices of satirical magazine Charlie Hebdo in Paris on 7th January 2015. Terrorists also laid siege to a kosher supermarket in Paris, holding 19 hostages before killing four Jews.
Former Labour MP Ian Austin, who now sits as an independent, told LBC: "I think this is very shocking.
"I mean to discover that one of Jeremy Corbyn's right-hand men, someone who helps run his office and who would be in Number 10 if Jeremy Corbyn became Prime Minister, has views like this, I think it will confirm to people how drastically the Labour party has changed from what was a mainstream, centre-left political party to something that is much more extreme."