Unions "Concerned" About Night Tube Safety
23 May 2016, 08:57 | Updated: 9 August 2016, 10:36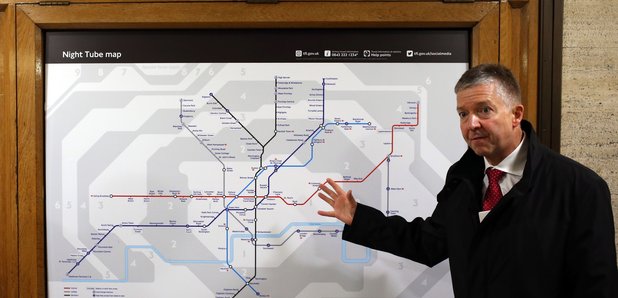 The Night Tube will launch in London on 19th August on the Central and Victoria lines but rail unions say they're "very concerned" about safety issues.
New Mayor Sadiq Khan has announced the Central and Victoria lines will start running at weekends from the middle of August.The Piccadily, Jubilee and Northern lines will follow in two separate phases in the autumn.
Around 200 part-time drivers are currently taking part in a 14-week training programme to make the Night Tube a reality.
But RMT spokesman John Leach told LBC that there is "an increased risk of assault" on late night services that meant his members were "very concerned".
"Think about what they're going to be doing.
"They're going to be running trains at a far less frequent service...not all destinations...you'll be having late night party people, revellers, going home...maybe drink taken.
"What kind of protection will be provided for people travelling home? What kind of security?"
There will be six trains per hour through central London on all Night Tube lines between 00:30 and 05:30. This will rise to eight trains per hour on the Northern line to service the busy stations between Leicester Square and Camden Town.
Mr Khan said: "The Night Tube is absolutely vital to my plans to support and grow London's night time economy - creating more jobs and opportunities for all Londoners. The constant delays under the previous Mayor let Londoners down badly.
"I have made getting the Night Tube up and running a priority, and London Underground has now confirmed that services on the first two lines will launch on 19 August."
The Night Tube will mean Londoners can travel on the following lines on Friday and Saturday nights and the early hours of Saturday and Sunday mornings:
- Central line: trains will run between Ealing Broadway and Loughton / Hainault
- Victoria line: trains will run on the entire line
- Jubilee line: trains will run on the entire line
- Northern line: trains will run on the entire line except on the Mill Hill East and Bank branches
- Piccadilly line: trains will run between Cockfosters and Heathrow Terminal 5