TfL Whistleblower Recounts Violence Experienced By London Underground Workers
3 February 2017, 13:48 | Updated: 3 February 2017, 20:27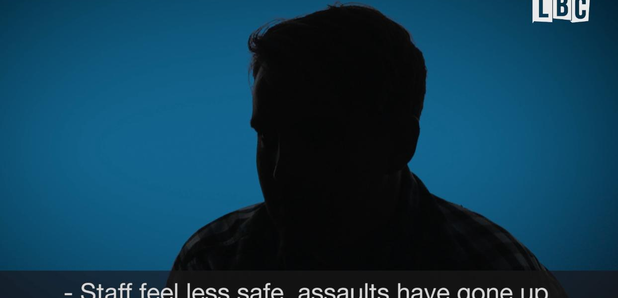 This London Underground worker revealed the dangerous situations he faces through his role.
There has been an ongoing dispute with Underground workers and TfL over safety concerns from Underground staff following the loss of more than 900 jobs.
An anonymous TfL worker spoke to LBC reporter Rachael Venables about the various issues he and his co-workers face.
He said: "Staff feel less safe, assaults have gone up because people see a member of staff on their own whereas a year ago they might have seen two or three.
"Now if it's one member of staff they will go in and try and have a go at them. It's having an impact on staff moral. It's something that I've had issues with, it's had an impact on my mental health, it's had an impact on my colleagues' mental health.
"Over the last two or three years or so I've had three serious kind of physical assaults and I've had countless verbal assaults, and that is true of my colleagues across the underground network."
At the end of last year TSSA Union asked members about how they feel since the changes.
Eighty two per cent said they feel less safe and 13 per cent reported they feel dangerously unsafe.
Seventy nine per cent said they'd experienced an increase in verbal or physical abuse.
Steve Griffiths, TfL's Chief Operating Officer for the London Underground, said: "We do not tolerate any form of verbal or physical assault on our staff.
"Our campaign against workplace violence sends a clear message that any assault on staff will be fully investigated and we work closely with the British Transport Police to bring perpetrators to justice.
"We will be recruiting at least 650 new station staff this year, of which 325 will be additional new roles."