The Hilarious Tweets That Sum Up President Donald Trump's Inauguration
20 January 2017, 18:18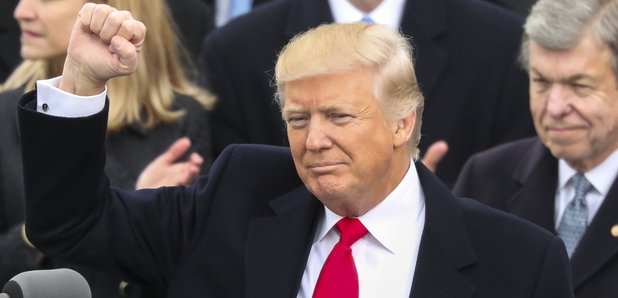 As the world watches Donald Trump take the oath as President of the United States, some people find the funnier side of the inauguration.
During a day of serious pomp and ceremony, some people are taking to social media to share some of the funniest moments from the big day.
We've picked the most outrageous tweets the internet has to offer.
Rule Britannia...
Kellyanne Conway looks like she's about to bring the HMS Victory around for a broadside on a Spanish galleon pic.twitter.com/qUEik64eVy

— Lachlan Markay (@lachlan) January 20, 2017
MP Jess Phillips on motherhood:
When Obama was inaugurated I had a tiny baby & my mates also with their tiny babies came over to watch it.Hopeful for our children's future

— Jess Phillips MP (@jessphillips) January 20, 2017
That tiny baby is now 8, he just ran in the room and shouted "why are you watching this, let's look at peregrine falcons on the Internet"

— Jess Phillips MP (@jessphillips) January 20, 2017
Gary Lineker always brings it back to Piers Morgan:
Hope it's not a bowel movement as @piersmorgan could fall out. https://t.co/Wp9RXE9X0d

— Gary Lineker (@GaryLineker) January 20, 2017
Michelle Obama was grateful for the gift from Melania Trump:
We are all Michelle Obama today pic.twitter.com/k8cCYFeTAQ

— sam esfandiari (@samesfandiari) January 20, 2017
During Trump's speech, the weather changed:
As President Trump begins speaking, here comes the rain.

— Jim Acosta (@Acosta) January 20, 2017
God is peeing on Donald Trump.

— John Aravosis (@aravosis) January 20, 2017
And our own Foreign Secretary offers his sincerest congratulations:
Congratulations to @realDonaldTrump @POTUS on his presidential inauguration day. Look forward to continuing strong UK - US bond

— Boris Johnson (@BorisJohnson) January 20, 2017