"Thanks A Lot, B****!" Moment Pre-Debate Rush Turned Very Tetchy
27 September 2016, 02:13 | Updated: 27 September 2016, 04:54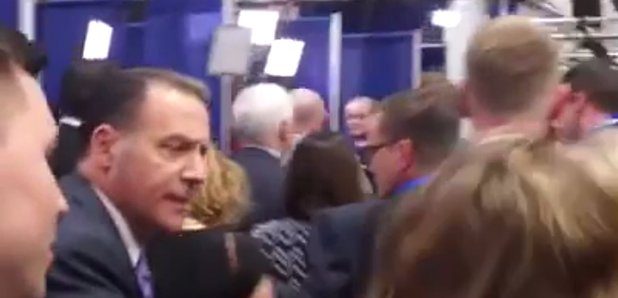 One reporter has gone viral after turning the air blue just moments before the huge debate between Donald Trump and Hillary Clinton.
Things are off to a great start! https://t.co/VAnIWSijWB

— Deadspin (@Deadspin) September 27, 2016
It's believed the clip was recorded in the final moments before the debate got underway, as the media scrum rushed to try to get an interview with Mark Cuban. He's a wealthy investor who's been known to wind up Trump - he ended up sitting in the front row for the debate.
But while most of the reporters kept their cool as they tried to talk to Cuban, some failed spectacularly - and it was all caught on camera.
The reporter whose profanities went viral is named Kimberley Halkett - she's already become a bit of a celebrity online after her swearing was seen by millions.