Ian Collins' Epic Response To Angry Listener Over Jamie Carragher Spit
12 March 2018, 08:44 | Updated: 12 March 2018, 09:39
This is Ian Collins' epic response to an LBC listener who was livid that that he wanted Jamie Carragher sacked for spitting at a 14-year-old girl.
The Sky Sports pundit was caught on camera reacting to a Manchester United fan who was teasing him over Liverpool's defeat on Saturday. But he responded to the taunting father by spitting into his car, getting the teenager in the face.
After Ian said he should lose his job for such a disgusting act, Robin texted to say: "You really are a piece of work, trying to get someone sacked. Listen to the **** you spew out."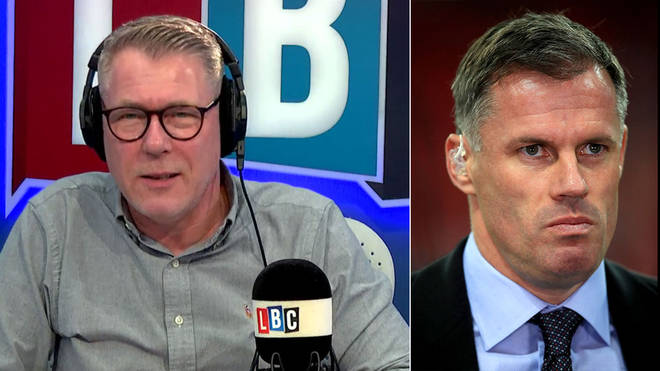 That wound Ian up and he responded: "Wow. Mate, what he spewed out... he gobbed in a child's face for goodness sake.
"Trying to get a guy sacked... it's not a kid in the classroom that you're saying, 'Miss, he didn't do his homework'. It's a man committing an offence on a motorway by spitting in a child's face.
"Which bit of that do you not get? Man alive.
"We do any all ends of the evolutionary scale taking part, I have to say."