Afghanistan: 'High threat' of Isis-K terror attack as evacuation deadline draws near
25 August 2021, 21:03 | Updated: 26 August 2021, 08:34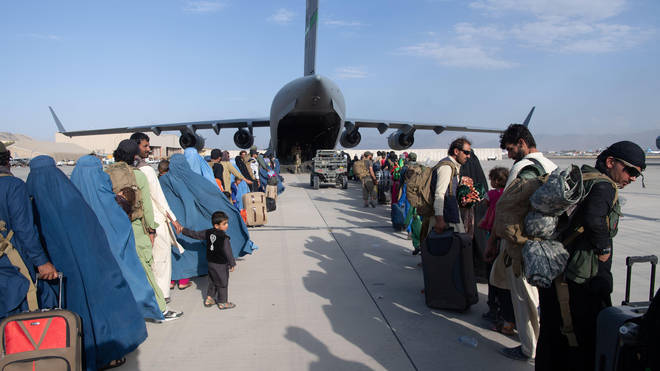 UK nationals have been told not to travel to Kabul airport amid the "high threat" of a terrorist attack, as the evacuation deadline from Afghanistan approaches.
The Foreign, Commonwealth and Development Office (FCDO) updated its travel advice for Afghanistan on Wednesday night and warned the situation in the country "remains volatile" and those near the airport should move away to a safe location.
The terror threat concerns the so-called Islamic State splinter cell, Isis-K, an enemy of the Taliban.
On Sunday, US President Joe Biden's national security adviser Jake Sullivan said the threat from the group at the airport was "real, acute" and "persistent".
Updated FCDO guidance said: "The security situation in Afghanistan remains volatile.
"There is an ongoing and high threat of terrorist attack. Do not travel to Kabul Hamid Karzai International Airport.
"If you are in the area of the airport, move away to a safe location and await further advice."
Crowds have flocked to the airport over the last 12 days to flee Afghanistan since it fell to the Taliban.
Chaotic scenes have been reported as troops attempted to remove as many eligible people as possible before an August 31 deadline by which military personnel must leave the country.
Read more: 'Australian citizen' beaten by Taliban while trying to reach evacuation flight
The FCDO's updated advice said there had been allegations "of people being mistreated on their way to Kabul International Airport".
And it warned that travelling by road was "extremely dangerous".
11,474 people have now been evacuated from Afghanistan by UK troops, according to new figures from the Ministry of Defence (MoD).
This includes embassy staff, British nationals, those eligible under the Afghan relocation and assistance policy (Arap) programme, as well as some evacuees from allied countries.
The Arap programme is designed to allow those Afghans who helped the UK forces and therefore are at risk of persecution by the Taliban to leave the country.
The MoD said the UK has evacuated almost 7,000 Afghan individuals and their families.
Read more: 'This is what defeat looks like isn't it?' Nick Ferrari asks Dominic Raab three times
Read more: 'We were on the job': Raab hits back at criticism over holiday while Kabul fell
However, the PA news agency understands nearly 2,000 Afghan interpreters and other staff who worked for Britain need to be airlifted out of Kabul as the evacuation operation enters its final days.
As well as the almost 2,000 people eligible under Arap, an unidentified number of "special cases" may be eligible for evacuation, such as LGBTQ advocates, judges and human rights activists.
The number of British citizens who still need evacuating, as well as those who hold dual citizenship, also remained unclear.
Foreign Secretary Dominic Raab said "every hour" will be used to help people flee and declined to rule out UK forces having to depart by the end of Friday.
Earlier, the US Secretary of State said there is a "very real possibility" Isis will attack foreign nations as they evacuate citizens and Afghans from Kabul.
Antony Blinken, who oversees America's foreign policy, said it is "hard to overstate" how dangerous the situation is.
He also confirmed that, as countries try to fly thousands out of Afghanistan while they flee Taliban rule, plans were being drawn up if US forces need to stay after the planned August 31 withdrawal date.
A focus on hitting that deadline means the UK is trying to wrap its evacuation effort up before the weekend, having brought out more than 10,000 British and Afghan nationals.
But the security situation at Hamid Karzai International is a major concern.
Read more: PM: Taliban must ensure safety of people who want to leave Afghanistan after August 31
Read more: Afghanistan: UK evacuation flights from Kabul to end in 'next 24 to 36 hours'
Speaking to reporters, Mr Blinken said: "It's hard to overstate the complexity and the danger of this effort.
"We're operating in a hostile environment, in a city and country now controlled by the Taliban, with the very real possibility of an ISIS-K attack."
He was referencing the branch of the terror group which operates in Afghanistan, Isis Khorasan Province.
Read more: China pushes for 'support' in Afghanistan instead of imposing sanctions
It has had poor relations with the Taliban, having reportedly criticised them in statements and fought the group.
"We're taking every precaution," Mr Blinken added.
"But this is very high risk.
"As the President said yesterday, we're on track to complete our mission by August 31, provided the Taliban continue to cooperate and there are no disruptions to this effort.
"The President has also asked for contingency plans in case he determines that we must remain in the country past that date."
On Saturday, the US embassy issued a new security warning, telling citizens not to go to Kabul airport without a specific instruction from a US government representative.
At the time, officials did not elaborate on the threat.
A House of Lords report from January said that after the Taliban, "the two highest profile non-state actors (in Afghanistan)... were al Qaeda and Islamic State Khorasan Province".
It said the Foreign Office considered those three groups to be "responsible for most violence against Afghan civilians".
They "pose the most significant security threats to the UK and our allies", the report added.
More than 80,000 people have been flown out via the international effort but the Taliban – which has pledged to let citizens of foreign countries go – has said it no longer wants to see Afghans leave.
According to CNN, on Tuesday, Zabiullah Mujahid, a Taliban spokesman, said: "The road, which goes to the airport, is blocked. Afghans cannot take that road to go to the airport, but foreign nationals are allowed to take that road to the airport.
"We are not allowing the evacuation of Afghans anymore and we are not happy with it either."