Alexei Navalny tells supporters to 'take to the streets' after he is jailed for 30 days
18 January 2021, 14:38 | Updated: 18 January 2021, 21:01
Russian opposition leader Alexei Navalny has told his supporters to "take to the streets" after he was jailed for 30 days following a court trial in Moscow.
The ruling concluded an hours-long court hearing set up at a police station where the politician has been held since his arrest at one of the city's airports on Sunday.
In a video published shortly after the hearing, Mr Navalny told his followers to "not be afraid" and protest.
Read more: Russian opposition leader put on trial in police station
He said: "Do not be silent. Resist. Take to the streets. No one but ourselves will protect us, and there are so many of us that if we want to achieve something, we will achieve it."
His allies allege he was being refused access to his lawyers while detained at the police station, with solicitors notified of the trial just minutes before it began.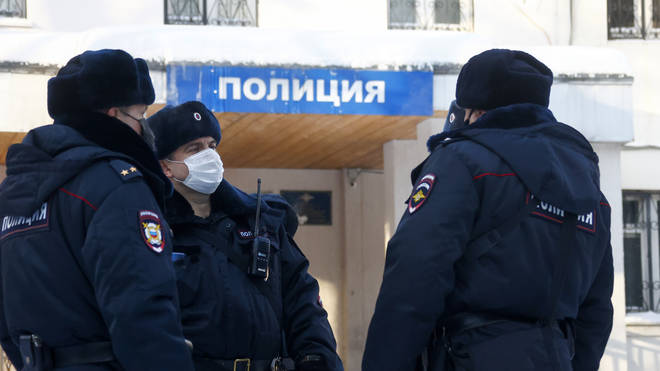 The activist described the move yesterday as "lawlessness of the highest grade" and has been met with criticism and anger from many countries - including the UK.
Supporters demanding Mr Navalny's immediate release clashed with officers outside the precinct yesterday evening and resulted in several arrests.
Read more: Alexei Navalny: Britain calls for release of Russian opposition leader
Foreign Secretary Dominic Raab, European Commission President Ursula von der Leyen and US President-elect Joe Biden's pick for national security adviser Jake Sullivan have been among those to speak out.
Following the conviction Mr Raab said: "It is appalling that Alexey Navalny has been detained on arbitrary charges. The UK Government calls for his immediate and unconditional release.
"Mr Navalny is the victim of a nerve agent attack, and the Russian authorities should investigate and explain the use of a chemical weapon on Russian soil."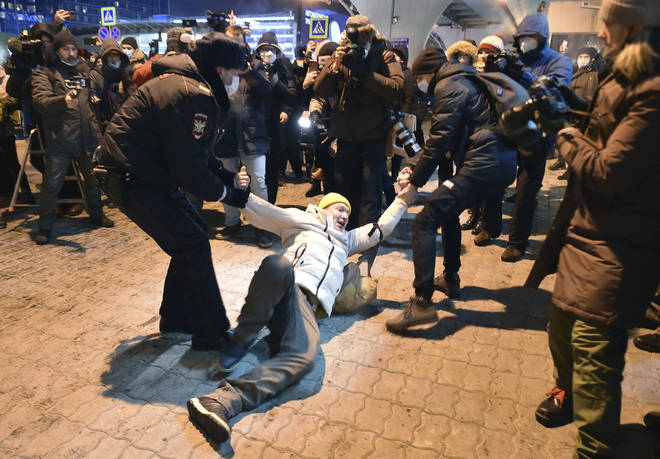 Mr Navalny's lawyer Vadim Kobzev told the reporters the defence team plans to appeal against the ruling.
It is the latest in a long-running saga after Mr Navalny fell into a coma while aboard a domestic flight from Siberia to Moscow on August 20 last year.
He was transferred from a hospital in Siberia to a Berlin hospital two days later, where labs from multiple countries established that he was exposed to a Soviet-era Novichok nerve agent.
Russia refused to open a full-fledged criminal inquiry, citing a lack of evidence that Mr Navalny was poisoned, and officials have challenged Germany to provide proof of the poisoning
Last month, Mr Navalny released the recording of a phone call he said he made to a man he alleged was a member of a group of officers of the Federal Security Service, or FSB, who purportedly poisoned him in August and then tried to cover it up.
The FSB dismissed the recording as fake.