'It's a miracle': American mother and daughter freed from captivity by Hamas to be reunited with family
20 October 2023, 20:18 | Updated: 21 October 2023, 00:05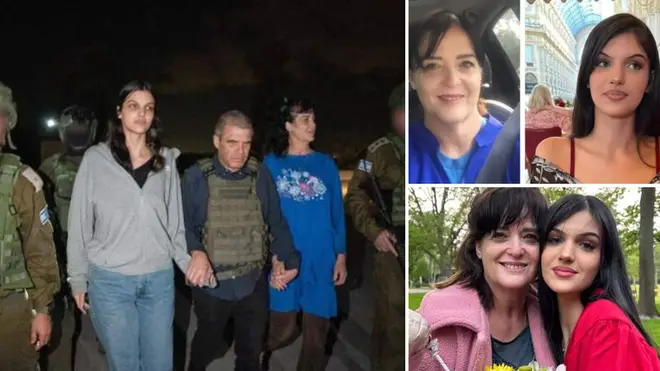 Hamas has freed an American mother and daughter from captivity, after taking them hostage in the attack earlier this month that sparked the conflict with Israel.
Judith Raanan and her 17-year-old daughter Natalie, who also hold Israeli citizenship, were visiting the Nahal Oz kibbutz in southern Israel on October 7 for the 85th birthday of Judith's mother, and to celebrate Natalie's graduation from high school.
Hamas said it was letting them go for humanitarian reasons, as part of an agreement with the Qatari government, which has significant influence with the Palestinian group.
The Israeli armed forces said that they received the Raanans "at the border of the Gaza Strip" before taking them to a military base in central Israel, where they were set to be reunited with heir family members.
Around 200 other hostages are still being held captive by Hamas. Seven British people are still missing, although it is not clear if they are being held hostage.
Relatives of the other captives welcomed the release and appealed for others to be freed.
"We call on world leaders and the international community to exert their full power in order to act for the release of all the hostages and missing," the statement said.
Joe Biden said he was "overjoyed" by the release of the captives. "As president, I have no higher priority than the safety of Americans held hostage around the world," he said.
US Secretary of State Anthony Blinken said that every single one" of the hostages should be released, "and they should be released now."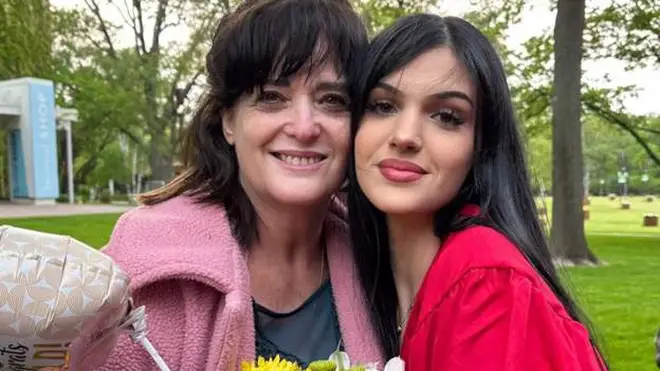 He added: "The entire US government will work every minute of every day to bring them home."
Rishi Sunak said he welcomed the release of the two hostages and thanked Qatar "for their leadership on this issue."
He said: "I discussed efforts to free hostages with [Qatar emir] Amir Tamim Bin Hamad today and we will continue to work tirelessly with Qatar, Israel and others to ensure all hostages come home safely."
A relative of the mother and daughter pair said their release was "like a miracle."
Martin Fletcher told NBC: "We talked about it the other day - would they be human shields? Would they be killed by Israel's invasion of Gaza?
"Nothing good could possibly happen. And then suddenly, bang - what an about-face."
Addressing his wife's reaction, he said: "Tears of emotion."Before she was crying tears of anguish - now I guess she is crying tears of joy - and my wife is not a sentimental woman.
"And, you know, she was the first to say: 'That's just our family - what about the rest?'."
Read More: Machine gun fire breaks out on Israel's border with Gaza as soldiers told 'you will soon see it from the inside'
Read more: Rishi Sunak has 'failed monumentally' to 'humanise' both sides of the Israel-Hamas conflict says Israel expert
Red Cross said it was "extremely relieved" by the pair's release.
The charity's president, Mirjana Spoljaric, said in a statement: "The release of two hostages in Gaza today is a sliver of hope. We are extremely relieved that they can be reunited with their family after two weeks of agony.
"The ICRC continues to call for the immediate release of all hostages.
"We are ready to visit the remaining hostages and to facilitate any future release following an agreement reached by the parties."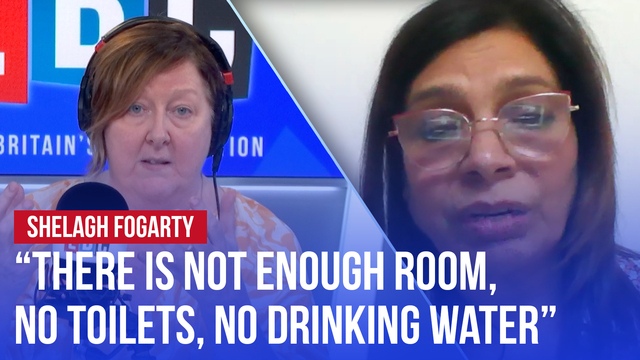 Medical Aid for Palestinians Director tells Shelagh of the situation regarding getting aid to Gaza
It comes after it emerged that Israel plans to cut ties with the Gaza Strip when its war with Hamas is over.
Officials revealed the plan on Friday, as they unveiled plans for a 'three phase' war.
Israel is massing its army and is poised to invade on the ground in a bid to end Hamas's capacity to harm its people ever again.
The stage is set for an expected attack, which will force soldiers to fight in the densely urban Gaza city and in the "Metro" system of terrorist tunnels, with world leaders including Joe Biden and Rishi Sunak having left after their visits.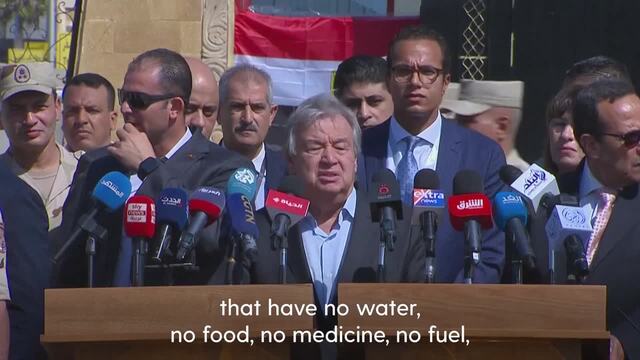 UN chief Guterres calls on all parties to secure aid into Gaza
Automatic fire was heard on the border on Friday morning and reporters in the area have noticed increased activity on the frontier.
Yoav Gallant, the defence minister, told troops: "Whoever sees Gaza from afar will soon see it from the inside. The command will come, I promise you.