Kobe Bryant: NBA legend dies in helicopter crash aged 41
26 January 2020, 20:26 | Updated: 26 January 2020, 22:18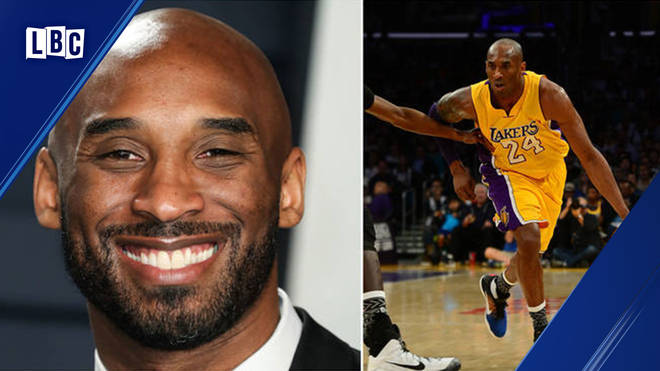 Basketball legend Kobe Bryant has died in a helicopter crash in California, aged 41.
The NBA star was killed when the aircraft he was travelling in crashed and burst into flames on Sunday morning amid foggy conditions.
A further four people were also killed in the heartbreaking crash on Las Virgenes Road in Calabasas, California.
His 13-year-old daughter Gianna was among those to have died on board.
Los Angeles County Sheriff's Department said they received a call for a downed helicopter at 10:01am.
The fire service attended the scene to extinguish the flames.
Tony Imbrenda, the Los Angeles County Fire captain, told reporters: "Unfortunately there were no survivors."
The Federal Aviation Administration and National Transportation Safety Board will investigate the crash, the FAA said in a statement.
The helicopter involved was a Sikorsky S-76, with a tail number that matched one owned by Bryant for years. The chopper was adorned with his logo.
Senior ESPN NBA insider, Adrian Wojnarowski, confirmed the tragic news on Twitter. Several US media outlets also verified Bryant's death, citing multiple sources.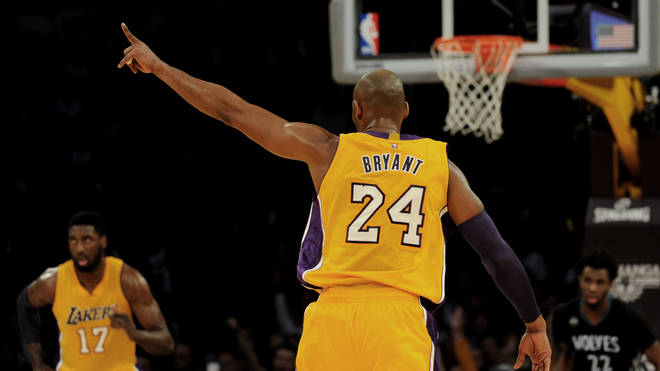 US President Donald Trump took to Twitter to comment on the "terrible news."
He wrote: "Reports are that basketball great Kobe Bryant and three others have been killed in a helicopter crash in California. That is terrible news!"
Los Angeles Mayor Eric Garcetti said the news of Bryant's death was "a moment that leaves us struggling to find words."
He said in a statement: "Kobe Bryant was a giant who inspired, amazed, and thrilled people everywhere with his incomparable skill on the court — and awed us with his intellect and humility as a father, husband, creative genius, and ambassador for the game he loved.
"He will live forever in the heart of Los Angeles, and will be remembered through the ages as one of our greatest heroes.
"This is a moment that leaves us struggling to find words that express the magnitude of shock and sorrow we are all feeling right now, and I am keeping Kobe's entire family in my prayers at this time of unimaginable grief."
The former LA Lakers star was travelling with four people in his private helicopter when it crashed 40 miles north-west of Los Angeles.
His wife, Vanessa Bryant, is not believed to have been on board.
The point guard was widely considered one of the greatest basketball players of all time, having won two Olympic gold medals and five NBA championships in his 20-year career.
He was born in Philadelphia in 1978 and was drafted at number 13 by the Charlotte Hornets in 1996.
Bryant was immediately traded to the LA Lakers, where he spent the rest of his career before retiring in 2016.
When he announced his plans to retire in 2015, NBA commissioner Adam Silver called Bryant "one of the greatest players in the history of our game."
He was named the NBA's Most Valuable Player in 2008, was Finals MVP on two occasions and was an 18-time All-Star.
The Lakers retired both of Bryant's shirt numbers - eight and 24 - in a ceremony in December 2017, when then franchise president Magic Johnson said: "We're here to celebrate the greatest who has ever worn the purple and gold."
Bryant stands fourth in the all-time NBA points list, having been pushed down from third by current Laker LeBron James on Saturday night.
"I'm just happy to be in any conversation with Kobe Bryant, one of the all-time greats to ever play," James said after the game.
Bryant tweeted on Saturday night: "Continuing to move the game forward @KingJames. Much respect my brother."
Sporting stars from around the world were quick to pay tribute to Bryant on Twitter.
Former England striker Gary Lineker wrote: "Oh no. How awful. One of the greatest sportsmen of our lifetime. Utterly tragic", while current England forward Raheem Sterling wrote: "Rest easy Legend".
Six-time Super Bowl champion Tom Brady said: "We miss you already Kobe", while retired NBA star Dwyane Wade wrote: "Nooooooooooo God please No!".