BioNTech chief executive 'confident' vaccine works against new Covid variant
22 December 2020, 09:31 | Updated: 22 December 2020, 11:33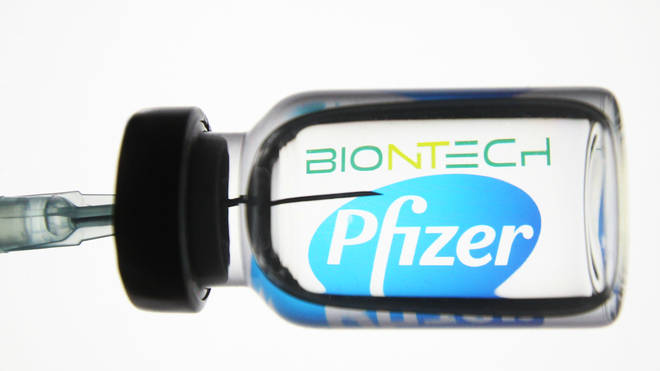 The chief executive of BioNTech has said the company is confident its vaccine works against the new strain of Covid-19 spreading across the UK.
Ugur Sahin said more tests were needed before he could be completely sure of the efficacy of the drug, but that he was "confident" it would work.
The Pfizer/BioNTech vaccine is currently the only jab approved for use in the UK so far.
Mr Sahin said he had "scientific confidence" in the effectiveness of the vaccine against the new form of Covid-19 as it shares 99% of the same proteins as previous iterations.
"The likelihood that our vaccine works ... is relatively high," he explained.
However, he did state that more research is needed into the mutation, which is prevalent in London and the southeast of England.
"But we will know it is effective only if the experiment is done and we will need about two weeks from now to get the data," he said.
Mr Sahin said that if adjustments were necessary, it would take BioNTech around six weeks to make them, although regulatory approval may be needed.
His comments come as England is set to go into a New Year lockdown after the Government's chief scientific adviser said cases of the mutant strain of Covid are now appearing "everywhere".
The rest of the country is expected to join London and parts of southern and eastern England when the Tier system is reviewed on December 30, with the changes coming into effect on January 1.
London and the South East was rushed into the new Tier 4 lockdown regime at the weekend after existing Tier 3 measures proved inadequate to control the spread of the more infectious variant.
Scotland and Northern Ireland have already announced new lockdowns from Boxing Day while Wales' tough restrictions will only be eased for Christmas Day before being reimposed.
And at Monday's Downing Street press conference, Sir Patrick Vallance indicated a lockdown may be needed in wider areas of England, particularly as Christmas mixing may result in an increased spread of cases.
He said: "The evidence on this virus is that it spreads easily, it's more transmissible, we absolutely need to make sure we have the right level of restrictions in place.
"I think it is likely that this will grow in numbers of the variant across the country and I think it's likely, therefore, that measures will need to be increased in some places, in due course, not reduced."