Bird flu discovered in poultry as authorities impose 'control zone'
1 November 2021, 21:49 | Updated: 1 November 2021, 22:18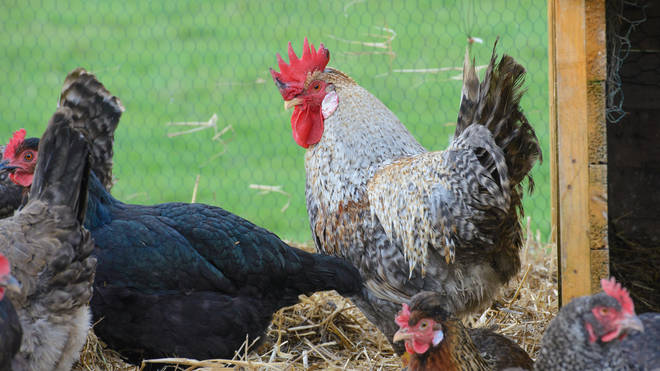 Bird flu has been detected in poultry and wild birds in the Wrexham area.
A "temporary disease control" ranging between three and 10 kilometres has been imposed around the small premises in Wrexham County Borough, Welsh authorities said.
An investigation is under way, but dead wild birds have been found in the area and tested positive for avian influenza H5N1, and they are thought to be the source of the infection.
The risk to public health is thought to be "very low" and the cases are not a threat to food safety.
However, members of the public have been asked not to pick up or touch any sick or dead birds, and instead call the Department for Environment, Food and Rural Affairs' helpline on 03459 33 55 77.
The infections were confirmed by Christianne Glossop, the Chief Veterinary Officer for Wales.
Read more: China reports world's first human case of H10N3 bird flu
Ms Glossop said: "Avian Influenza has been found in poultry and wild birds in the Wrexham area. This is further evidence of the need for all keepers of poultry and captive birds to ensure they have the very highest levels of biosecurity in place.
"Public Health Wales has said the risk to the health of the public from Avian Influenza is very low and the Food Standards Agency has made clear it does not pose a food safety risk for UK consumers.
"Temporary control zones have been imposed to help prevent further spread of the disease.
"Suspicion of avian influenza or any other notifiable disease must be reported to the Animal and Plant Health Agency immediately."
The last time Wales recorded a bird flu case was in January, and the infections reported on Monday follow similar findings in the UK and Europe.
Bird keepers have been asked to keep vigilant for any signs of the disease, such as increased deaths or respiratory diseases. They should ask for advice from their veterinary sturgeon if they have concerns.
More information on reporting and disposing of dead wild birds can be found at gov.wales