Black Boy Lane renamed - but vandals deface new street signs within 24 hours
24 January 2023, 15:30 | Updated: 27 January 2023, 16:15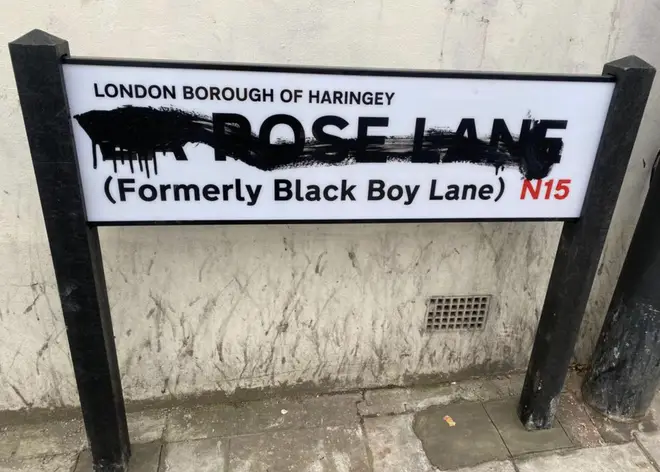 Vandals have spray painted over the new name for Black Boy Lane in Tottenham, just a day after the street was controversially renamed.
Black Boy Lane in Tottenham was changed to La Rose Lane after the seminal black author and poet John La Rose.
The street was renamed over 'racist connotations' - with signs being installed yesterday, but vandals daubed out the new name overnight.
Sharing an image of the vandalism, leader of Haringey Council Peray Ahmet, tweeted: "Really sad and disappointed to have been sent this today.
"This follows a fantastic launch yesterday where we celebrated the life and legacy of John La Rose. What could this ever achieve beyond mindless vandalism."
Really sad and disappointed to have been sent this today.

This follows a fantastic launch yesterday where we celebrated the life and legacy of John La Rose.

What could this ever achieve beyond mindless vandalism. pic.twitter.com/FjctjVH3fX

— Peray Ahmet (@perayahmet) January 24, 2023
The street was renamed due to it being "offensive", costing taxpayers around £100,000.
A consultation was launched following the Black Lives Matter movement over the summer of 2020, with the final decision to officially rename 'Black Boy Lane' in Haringey being made in February last year.
Several residents were concerned about the racial connotations of the name and its impact, Haringey council said.
The terms 'black boy' or 'boy' when referring to Black men have historically been used as a way to belittle them, suggesting they are worth less than their white male counterparts, it explained.
However others say the street's name is merely a reference to a nickname for King Charles II.
The road was instead renamed 'La Rose Lane' on Monday, in celebration of John La Rose, "a former Haringey resident, publisher, essayist, poet, and champion of Black history and equality".
However, the move caused a backlash among some locals after it was reported that the change in names had cost taxpayers £186,000 - and the new sign still included the offensive 'Black Boy Lane'.
The road signs will still say Black Boy Lane for a year-long 'transition period,' Haringey said.
Read more: Fury as Birmingham school bans girl from playground and canteen over 'racist' hair policy
Read more: University department cancels use of the word 'field' because of 'racist connotations'
One person tweeted: "Some jobsworths decided that Black Boy Lane was offensive as a road name. Haringey council spend serious cash renaming it. The new road sign still contains said offensive name. Make it make sense."
Another person said: "Black Boy Lane renamed La Rose Lane, still bearing the name Black Boy Lane. What woke idiots are responsible for this?"
A third Twitter user claimed people on the street had put up their own signs to protest the change.
"Residents on Black Boy Lane have put signs of the road name, seemingly in protest to the name change today," they said.
Costs for the update include a 'voluntary' £300 payment to the 183 homes impacted, the Daily Mail previously said.
There will also be £50,000 spent on a support and administration officer to help residents affected as well as additional costs such as replacing all signage, according to the paper.
This has to be the most pointless exercise and waste of £186,000 of taxpayers money ever..... rename the Lane, but keep the old problematic name so everyone knows where it is..... 🙄 Black Boy Lane pic.twitter.com/krqa0Zhybm

— Helen (@Hells4Heroes) January 23, 2023
The council acknowledged that while many were in favour of the change others were firmly against it.
"We committed to a period of further engagement with residents at the last corporate committee, to make sure all residents are aware of the administrative changes that will need to be made, when they will need to be made by, and importantly to make sure we are aware of any additional support needs we can help with as a council," it said.
Cllr Peray Ahmet, Leader of Haringey Council, said: "I'm delighted that we're able to pay tribute to John La Rose with a new street name.
"John made such a huge contribution to Black life both here in Haringey and across the UK and played an important role in gaining recognition for Black authors and artists, as well as championing inclusive education.
"I understand that this is a decision which has generated passionate responses.  
"Several rounds of consultation were held, and I know that the Corporate Committee took the full range of views into consideration when deciding to change the name of the road.  It is time now to move forward with this.   
"While every effort is being made to ensure the transition is as smooth as possible, we recognise the name change will cause some disruption for residents, so I'm pleased that we're able to make a £300 voluntary payment to affected households.
"Our officers will continue to be out and about in the area over the coming weeks providing practical support to residents who need it.  
"I also want to be clear that this is just one small part of the work that we must do to ensure Haringey is a place where everyone feels welcome and included.  
"I look forward to working with residents and communities on this important mission in the months and years to come."