Storm Bella: 80mph winds batter Britain amid 'threat to life' flood warnings
26 December 2020, 23:56 | Updated: 27 December 2020, 00:00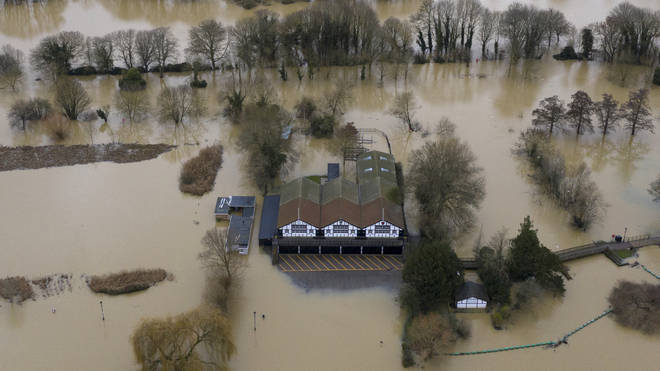 Flood defences have been erected and gusts of more than 80mph recorded as large parts of the UK are bracing for Storm Bella.
Warnings are in place across England and Wales, including two "threat to life" flood notices, and families have labelled their Christmas a "write-off" after they were forced to evacuate due to rising water levels.

An amber warning for wind is in place across the south coast and South Wales, with communities from Cornwall to Kent told to expect building damage and the possibility of flying debris in the stormy conditions.

On Saturday evening a gust of 83mph was recorded at Aberdaron in north Wales, with further yellow weather warnings for wind and rain in place across England, Wales, Northern Ireland and northern Scotland into Sunday indicating 60mph winds are likely across the country, according to the Met Office.
Parts of the country are already sodden after recent wet weather and flooding, with residents in more than 1,300 properties along the River Great Ouse in Bedfordshire advised to leave their homes as water levels rose on Christmas Day.
Further rain is expected on Sunday and Monday and the area is one of three under a severe flood warning, meaning a danger to life, along with the Cogenhoe Mill caravan site and Billing Aquadrome Holiday Park, both on the River Nene in Northamptonshire.
Bella, which follows relatively calm and cold conditions across the UK on Friday and early morning snowfall recorded in some areas, has led to the Met Office issuing an amber wind warning, which warns travel could be disrupted, for parts of south Wales and across southern England on Saturday.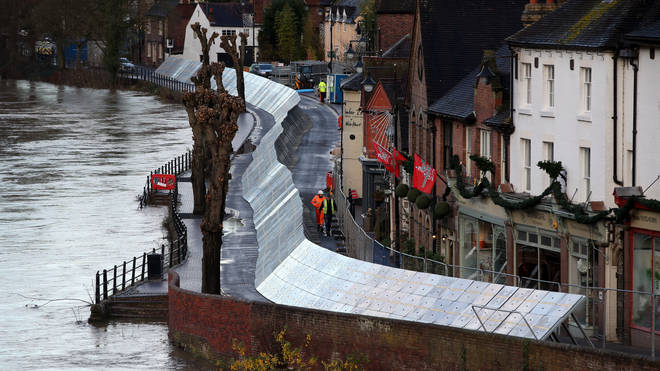 Thousands of families were forced to spend Christmas Day fleeing their homes following warnings from police over severe flooding.
More than 1,300 families living near the River Great Ouse in north Bedfordshire were told to find alternative accommodation or evacuate to local emergency centres, with many receiving a knock on the door late on Christmas Eve telling them to leave the area.
Clare Devany, 38, husband James Hodgson, 43, and their daughters, aged four and five, spent Christmas Day moving furniture to the top floor of their house in Bedford, before leaving to spend the night in a hotel in nearby Peterborough.
Ms Devany said: "You don't realise how much stuff you have in a house until you have to move it.
"We put all the furniture on to kitchen chairs and raised the sofa by two feet.
"You walk around and you just have to work out what to sacrifice. For us, that was things like the TV, because it was mounted and we didn't have time to take it down, the living room cabinets. It's furniture, it's not the end of the world.
"We moved paperwork, photos, all of the kid's memorabilia, their toys - everything came upstairs. The only thing we didn't touch because we didn't have time was the kitchen."
She said the day was a festive "write off" after the family were visited by police at 10.30pm on Christmas Eve and advised to leave.
"They said Covid is a non-issue," said Ms Devany.
"At that point, we started to get really concerned. Because they said, go anywhere - you can go to Tier 2 if you need to.
"With the way things have been going, it was a bit of an eye-opener, because it has been all-consuming the last few weeks, going from Tier 2 to 3 to 4. With total lockdown and being so careful, and them turning up at the door and saying 'that doesn't matter now, get out'.
"It was at that point we knew we really needed to get out.
"We put the turkey in the oven and had turkey sandwiches at the hotel last night, but it really has been a panic."
Meanwhile, a yellow warning of wind for the whole of England and Wales as well as the far south of Scotland has also been issued and will be in force from 3pm on Boxing Day.
In addition to the strong winds, the Met Office said a period of heavy rain will affect western and southern areas on Boxing Day.
A yellow warning for rain has been issued for parts of Scotland, Wales and much of north and south west England on Saturday, including areas where there has already been flooding from recent downpours.
In Ireland, Met Eireann issued a country-wide status yellow wind and rain warning, in force until 4am on Sunday.
As of 5am, England has 78 flood warnings and 99 flood alerts, two flood warnings and five flood alerts are in force in Wales, and seven warnings and 13 alerts have been issued by the Scottish Environment Protection Agency.
Bedfordshire Police on Friday "strongly urged" residents living near the River Great Ouse in north Bedfordshire to seek alternative accommodation due to fears of flooding.
On Christmas Day, Superintendent Steve Ashdown, who is leading the response, said officers had visited just over 1,300 homes in the area the previous evening and officers reiterated the advice on Friday.
"The river is currently at heightened levels and we're predicting a significant flooding event by 8pm this evening," he said in a video on Twitter.
"Appreciate the timing of this at Christmas Day is not great, but the risk to you and your family and wellbeing is significant."
He asked residents able to leave their homes to do so in a "Covid-safe way" if possible, recommending they go to one single location and stay there until it is safe to return in the coming days.