'It feels like we're on the way out': Brits bask in 24C heat as lockdown eases
30 March 2021, 16:30 | Updated: 30 March 2021, 22:55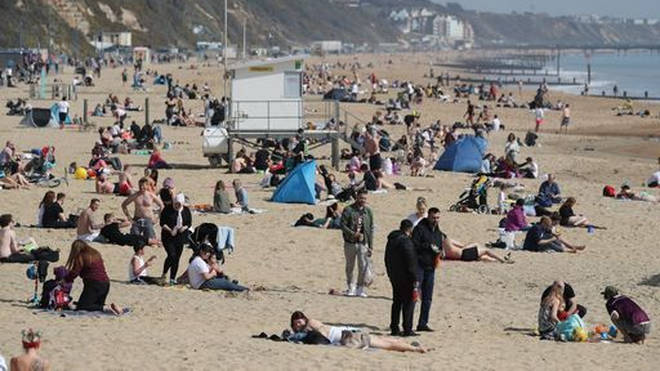 The UK has provisionally recorded its warmest March day in 53 years as temperatures rose above 24C, according to the Met Office.
The weather is then expected to turn colder over the Easter weekend, but tomorrow the weather could be a degree or two warmer.
The mercury peaked at 24.5C (76.1F) at Kew Gardens in west London on Tuesday, with St James's Park in the centre of the capital also hitting highs of 24.3C (75.7F).
The figure is only slightly below the UK's hottest ever March temperature of 25.6C (78F), recorded in 1968 at Mepal in Cambridgeshire.
Wales also recorded its hottest day of the year so far, with the mercury hitting 21.3C (70F) in Cardiff.
Northern Ireland experienced its warmest day of the year with temperatures reaching 18C (64.4F) at Giant's Causeway, while Scotland saw the mercury rise to 18.5C (65.3F) in Lossiemouth, Moray.
The Met Office tweeted: "Temperatures have exceeded 24°C in places today.
"This makes it provisionally the warmest March day in the UK for 53 years."
This comes in perfect time for those making the most of the newly in place rule of six.
But Matt Hancock said that while people enjoy the sun, they need to be careful not to "blow it" at this stage of the coronavirus pandemic.
The Health Secretary tweeted: "Let's enjoy the sun but let's do it safely. We have come so far, don't blow it now."
Chief meteorologist Steve Ramsdale said: "The UK will see a few days of notably warm weather to end March, with a maximum of 24C on Wednesday in the south and east of England.
"There will also be plenty of sunshine across England and Wales, however parts of Scotland will see some persistent rain over the next couple of days.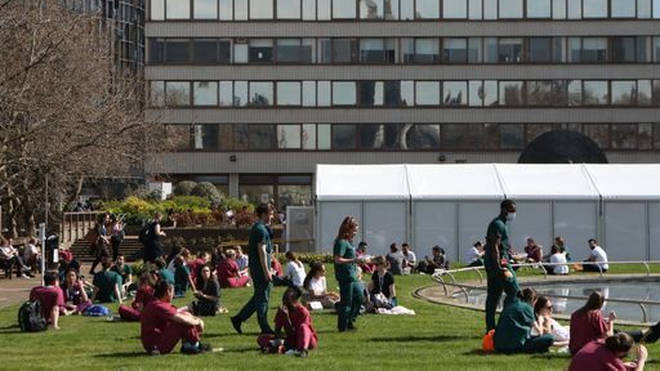 "Conditions will start to change through the day on Thursday as cooler air moves in from the north east, highs will fall to the mid-teens before falling further by Friday, especially along the east coast.
"With pressure building from the north however, conditions are expected to remain dry for the majority."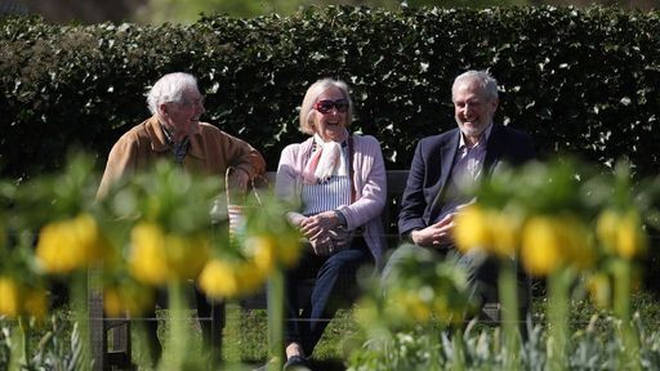 Monday was the warmest day of the year so far for England and Northern Ireland, with temperatures hitting 20.4C and 17.3C respectively.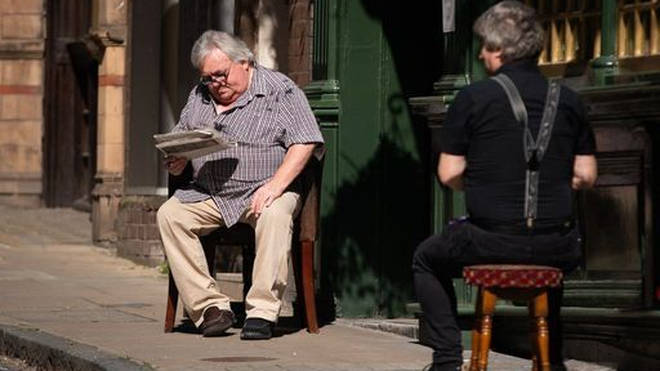 Mr Ramsdale said cold air will push across the UK by Sunday, bringing a "notable" change in temperature and the chance of strong wind and wintry showers.
Met Office forecaster Alex Burkill said it was a "possibility" that the weather record set today could be broken on Wednesday with temperatures expected to reach around 25C (77F).
He said: "It (the temperature) is exceptionally high for the time of year.
"It's the second warmest March day on record.
"Temperatures could be a touch higher tomorrow than they were today.
"Whether it will beat the 25.6C, I'm not so sure.
"It's on a knife edge.
"It's not out of the question, but I'm not expecting it to.
"It's a possibility."
Temperatures increased by more than 20C in less than four hours in Santon Downham, west Suffolk, earlier in the day.
The village saw the mercury climb from a frosty minus 1.6C (29.1F) at 7am to 19C (66.2F) shortly before 11am.
Temperatures are forecast to hit 24C (75.2F) to 25C (77F) on Wednesday, with the highest figures expected around London.
Tourism bosses have warned people to stay away from beauty spots, in a bid to prevent overcrowding.
It comes as Nottingham council banned drinking alcohol in parks after shocking footage emerged of a large crowd of students brawling.
A dispersal order has been put in place after the crowd gathered in Nottingham Arboretum on Monday as lockdown restrictions were eased.Footage posted on social media captured a brawl as dozens of people drank and ignored social distancing rules, leaving behind large amounts of litter.