British Airways Cancels All Flights To Cairo For 7 Days Over Safety Concerns
20 July 2019, 18:28 | Updated: 20 July 2019, 19:20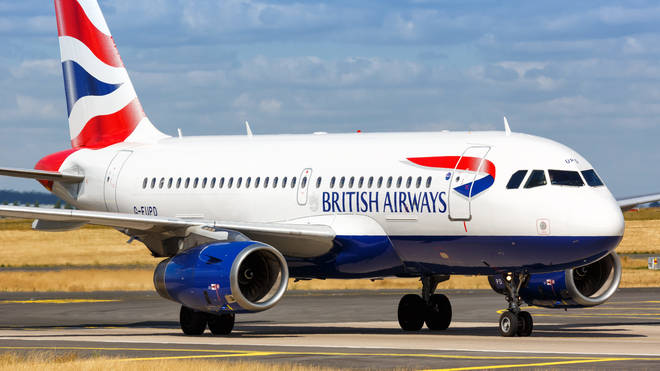 British Airways says it has cancelled flights to Cairo for seven days as a precaution following a security review.
Passengers about to board a British Airways flight from London Heathrow to the Egyptian capital were told that it was cancelled as a security precaution.
The airline announced on Saturday evening that all flights into Cairo were cancelled for seven days with immediate effect.
In a statement, the airline said: "We constantly review our security arrangements at all our airports around the world, and have suspended flights to Cairo for seven days as a precaution to allow for further assessment.
"The safety and security of our customers and crew is always our priority, and we would never operate an aircraft unless it was safe to do so."
The airline has not specified or given any more information on what the security issue is.
A government spokesperson said: "We are aware that British Airways is notifying passengers that it has decided to suspend flights to Cairo temporarily."
Aviation analyst Alex Macheras told LBC the fact only British Airways had pulled its flights from Cairo was "unusual" and suggests the airline had received intelligence or notification "something they haven't liked".
Mr Macheras said: "They are citing security reasons for the immediate cancellation and suspension for the Cairo route - it's only British Airways.
"This is unusual in aviation and it does suggest BA have received either intelligence or notification in their ongoing security assessments of airports they fly to, something that perhaps they haven't liked and has triggered this immediate suspension."
Other airlines that use the airport are currently operating as normal.
The Foreign Office has not issued warnings against air travel to and from Cairo, but has advised against all non-essential travel to the Egyptian resort of Sharm el-Sheikh.
But its advice website, which was last updated on Friday, includes the warning: "There's a heightened risk of terrorism against aviation. Additional security measures are in place for flights departing from Egypt to the UK."
More to follow...