Boris fights back: Gove sacked in revenge reshuffle after Cabinet calls for PM to quit
6 July 2022, 16:42 | Updated: 7 July 2022, 07:59
Boris Johnson has sacked Michael Gove as Levelling Up Secretary
Cabinet ministers gathered in No10 calling for Boris to go
Government hit by over 40 resignations in less than 24 hours
Three Cabinet ministers - Sajid Javid, Rishi Sunak and Simon Hart - are among the resignations
Former Johnson loyalists including Michael Gove and Priti Patel have reportedly told the PM to resign
No10 indicates he is determined to continue in office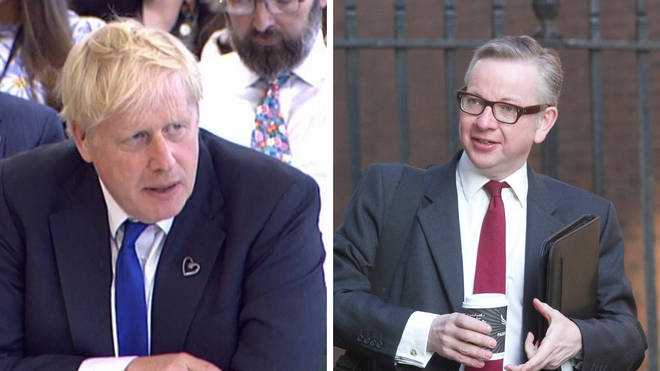 Boris Johnson has sacked Michael Gove after he reportedly joined other Cabinet members in telling the Prime Minister he should resign.
He is one of a number of Johnson loyalists thought to have now turned on the Prime Minister.
The sacking led to the resignation of the department's PPS Danny Kruger.
Mr Kruger joined over 40 other ministers who quit the government on Tuesday and Wednesday.
Earlier, in response to the Cabinet's demands, Mr Johnson reportedly warned them that stepping down now would cause "chaos" and the eventual break up of Britain.
As well as over 40 ministerial resignations and one sacking, a number of Cabinet ministers have called for the Prime Minister to resign.
The most recent Johnson loyalist to tell him to quit is Attorney General Suella Braverman, who told ITV's Peston she wants to be the next Prime Minister and that Mr Johnson should resign.
Mr Johnson faced a showdown with a group of Cabinet ministers inside Downing Street on Wednesday evening, hours after he vowed to stay on as PM when grilled by MPs.
Home Secretary Priti Patel is now thought to have joined the group, which is also believed to include newly-appointed Chancellor Nadhim Zahawi, Transport Secretary Grant Shapps, Trade Secretary Anne-Marie Trevelyan, Wales Secretary Simon Hart and Northern Ireland Secretary Brandon Lewis.
But despite mounting pressure Mr Johnson is defiant he will not stand down.
ITV News reports he told Cabinet a leadership contest would prevent the economic growth needed in the country.
He is also believed to have said that an election would lead to a coalition which would cause the eventual break up of Britain.
The 1922 Committee chairman Sir Graham Brady - keeper of letters of no confidence submitted by Tory MPs - has also arrived at No10 and is expected to see the Prime Minister shortly.
Home Secretary Priti Patel arrived at Downing Street via the side entrance and Business Secretary Kwasi Kwarteng is also set to join the delegation.
Mr Kwarteng earlier pulled out of a planned media round on Thursday morning amid the crisis over Boris Johnson's leadership.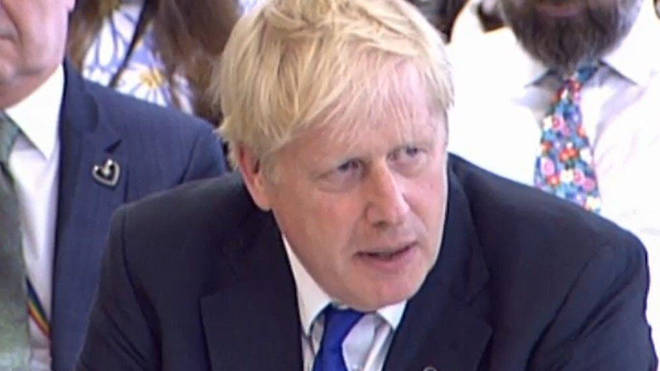 Several Cabinet ministers in No10 are believed to have their resignation letters ready and waiting if the PM refuses to go.
But it is understood there are two different groups of MPs currently in Downing Street - the ones who want him gone and the ones preparing to fight back in his defence.
Mr Johnson is believed to be seeing Cabinet ministers one at a time rather than together after several said they would resign yesterday or today without movement.
Read more: Boris hints he could trigger General Election and insists he'll still be PM tomorrow
Read more: Now Gove 'tells Boris Johnson to quit' as five Tories sign resignation letters at once
Johnson loyalist Nadine Dorries has continued to back him.
Asked if the Prime Minister should go, she replied: "No."
A source has said that Brexit Opportunities Minister Jacob Rees-Mogg, who was not in Number 10 with Mr Johnson on Wednesday evening, still supports the Prime Minister.
The PM arrived back to Downing Street just after 5pm after answering questions at the Parliamentary Liaison Committee.
He insisted "of course" he will still be Prime Minister tomorrow when grilled by MPs on his crumbling leadership position, and hinted at triggering a General Election if MPs don't respect him.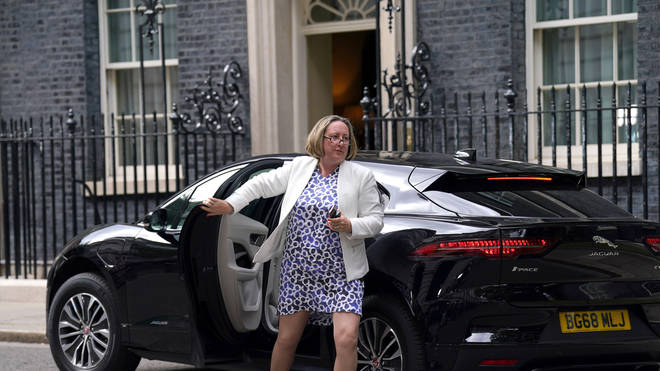 It came as the 1922 Committee executive met and decided not to change the rules to allow a second no confidence vote in Boris Johnson.
Instead, 1922 executive elections are being held on Monday 2pm to 4pm, with all 18 places on the executive being up for grabs.
It comes as more than 40 Tory MPs have resigned from Mr Johnson's government, calling on the PM to step down in the best interests of the country.
More ministers have resigned from government than have ever done before in a single day, higher than the previous record of 11 ministers quitting in September 1932.
The mass exodus kicked off on Tuesday evening after Mr Johnson issued a grovelling apology to MPs, saying it was a "mistake" to have appointed Pincher following allegations of inappropriate behaviour.
More ministers resigned from government on Wednesday than have ever done before in a single day, higher than the previous record of 11 ministers quitting in September 1932.
Some 14 have left Boris Johnson's government today, and since 6pm yesterday evening, 17 ministers have left in total.
The first to resign was Health Secretary Sajid Javid, followed closely by Chancellor Rishi Sunak - two senior members of Mr Johnson's Cabinet.
Mr Javid, in his resignation speech in the Commons on Wednesday, said "enough is enough".
A number of ministers followed suit, including education minister Will Quince, who was sent out on TV to defend the PM on Monday.
And on Wednesday night Simon Hart resigned, meaning Mr Johnson has lost three Cabinet ministers since Tuesday evening.
Meanwhile, Nicola Sturgeon has suggested a letter from Boris Johnson on Scottish Independence could be one of his last acts as Prime Minister.
She said: "Just received this from Johnson (one of his last acts as PM?). To be clear, Scotland will have the opportunity to choose independence - I hope in a referendum on 19 October 2023 but, if not, through a general election.
"Scottish democracy will not be a prisoner of this or any PM."
See a full list of those who resigned here.
This story is being updated