Changes unveiled to foreign travel traffic light system - full list
4 August 2021, 22:19 | Updated: 4 August 2021, 22:26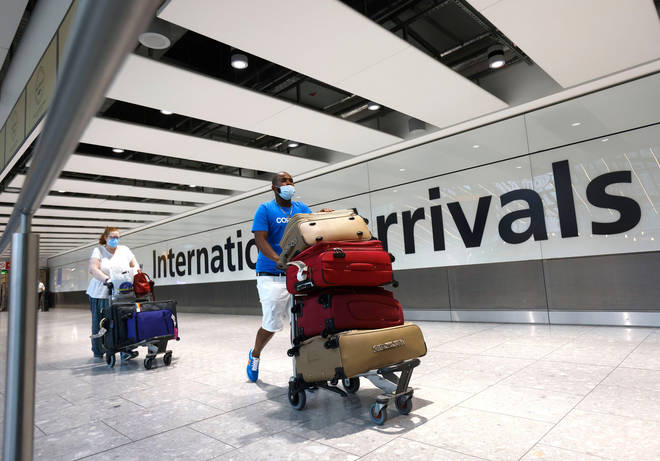 More changes have been made to the rules on international travel, with quarantine from France scrapped and a host of new green list destinations introduced.
The Department for Transport has unveiled its latest changes to its traffic light system for the UK - with seven countries added to the green travel list from 4am on Sunday.
What rules have changed?
France has lost its confusing 'amber watchlist' status, which meant all travellers and not just those who are not fully vaccinated had to self-isolate for 10 days upon return. This follows a drop in the number of Beta variant cases in the country, which had been causing concern.
The step aligns France with the rest of the amber list, where those who are fully vaccinated with a vaccine authorised and administered in the UK, US or Europe do not need to quarantine when arriving in England.
Green list - Austria, Germany, Slovenia, Slovakia, Latvia, Romania and Norway will be added to the government's green list for travel, having demonstrated they posed a low risk to UK public health.
Amber list - India, Bahrain, Qatar and the UAE will also be moved from the red to the amber list as the situation in these countries has improved.
Red list - Georgia, Mexico, La Reunion and Mayotte will all be added to the red list to safeguard domestic vaccine rollout. The government said they "present a high public health risk" to the UK.
Read more: Changes made to 'green' and 'red' travel lists as cost of quarantine hotels soars
How many lists are there?
The system has been simplified to three main categories; green, amber and red. There is also a 'green watchlist' to give travellers notice where a country's green status is at risk of moving to amber.
There was speculation that a new 'amber watchlist' could come into effect, but this idea was scrapped by the government earlier this week amid criticism.
Read more: Covid-19: Amber travel watchlist idea scrapped by government
When do the changes to the traffic light system come into effect?
From 4am on Sunday, August 8.
What about popular tourist hotspots?
There were fears in the travel industry that Spain - the most popular overseas destination for UK holidaymakers - could be added to England's red list.
However, Spain, Greece, Italy and Portugal will all remain on the amber list - where the vast majority of countries are placed.
Read more: From travel insurance to PCR tests: How to book a holiday abroad in 2021
Arrivals from Spain, and all its islands, are advised to use a PCR test as their pre-departure test wherever possible, as a precaution against the increased prevalence of the virus and variants in the country.
The government said its clinicians and scientists will remain in close contact with their counterparts in Spain to keep abreast of the latest data and picture of cases.
What about the US and EU?
Quarantine was waived for fully vaccinated travellers from the US and much of Europe arriving in England last week.
Travellers arriving in the UK no longer have to self-isolate for 10 days, meaning trips to England are viable for millions of people in those countries, boosting UK travel and tourism firms.
It also means hundreds of families have been able to reunite after many months apart.
If I need to stay in a quarantine hotel, how much will it cost?
Red-list countries are those the UK government says present the highest Covid risk, and should not be visited "except in the most extreme of circumstances".
If you do return from a red list country - regardless of your vaccination status - you are required to self-isolate for 10 days in a government-approved quarantine hotel.
From Thursday, August 12, the cost for staying in a Managed Quarantine Facility when arriving from a red list country will increase to £2,285 for a single adult and £1,430 for a second adult.
The price remains unchanged at £325 for children aged 5-12 and free for children under 5.
These prices are up from £1,750 for an adult, and £650 for an additional adult.
The government said the rise is to "better reflect the increased costs involved".
What if cases rise in other countries?
The data for all countries will be kept under review and the government said it "will not hesitate to take action where a country's epidemiological picture changes".
There are currently 24 countries on the green list, including the popular holiday destinations of Barbados, Croatia and Malta - unfortunately 16 of these are on the "green watch list" meaning they could be suddenly be shunted up to amber.
Australia and New Zealand are both unambiguously green - unfortunately neither are welcoming British travellers at the moment.