Charlie Gard's Parents: This Isn't A Right To Life It's A Right To Improve
9 July 2017, 18:39 | Updated: 9 July 2017, 18:42
Chris Gard and Connie Yates told LBC their son isn't in pain, he's stable, and the experimental treatment offers a chance for his condition to improve.
The parents of Charlie Gard spoke to LBC after a petition with more then 300,000 signatures was handed to Great Ormond Street Hospital (GOSH), urging them to let the terminally ill Charlie Gard access experimental medical treatment.
Chris Gard and Connie Yates have endured a lengthy legal battle with the hospital to take their son to America for experimental treatment, which they say could improve their son's condition.
GOSH initially argued there was no medical evidence to suggest it would improve Charlie's condition, but the parents have been handed fresh hope. after new evidence suggests it could help the youngster pull through.
The 11-month has mitochondrial DNA depletion syndrome, and supporters of his cause have raised £1.3 million to help him access the pioneering treatment.
Charlie Gard's Mother Pleads With PM: Please Help My Boy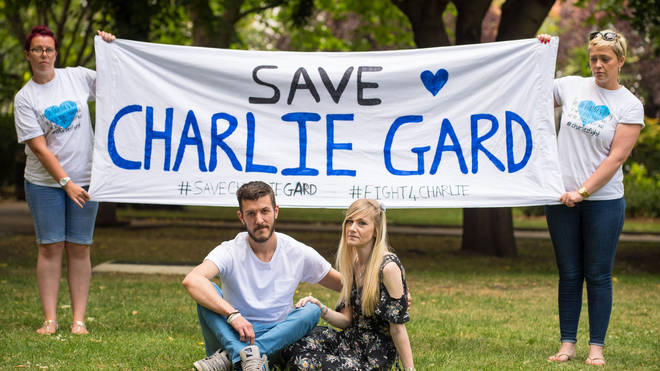 Backers of Charlie Gard include Donald Trump and the Pope, but LBC listeners and presenters have also rallied round to support the parents - and they thanked LBC for its support in this interview.
Nick Ferrari's Intensely Personal Reason Why Judge Got Baby Charlie Gard Decision Wrong
Charlie's parents were also keen to stress their son is not 'brain dead', is stable, and not in pain, and all they want to do is give him a chance of surviving.
Chris Gard said: "We wanna thank all the LBC listeners, producers and Nick Ferrari, and other presenters who have supported us, and believe what we're doing is right.
"You know, parents should have the final say. We're wanting to take him for a treatment which has got no side effects, we're asking for a three-month trial, and you know, if at the end of that three-month trial, he shows no signs of improvement, we'll let him go.
"This isn't a right to life, this isn't life at all costs, this is a chance of improvement for our son."