Child killed in Kabul rocket attack: Explosion rocks neighbourhood near airport
29 August 2021, 15:08 | Updated: 29 August 2021, 17:50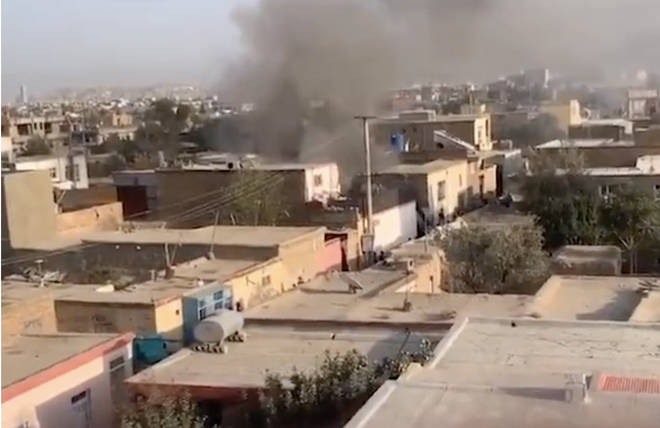 A rocket has struck a neighbourhood north west of Kabul's international airport amid the US evacuation, killing a child, according to a local police chief.
The rocket struck on Sunday afternoon, according to the official on the ground in Kabul. No group immediately claimed the attack.
US officials also confirmed it had launched an air strike targeting a vehicle carrying "multiple suicide bombers" from the affiliate of the so-called Islamic State in Afghanistan before they could target the US military evacuation at Kabul's international airport.
The two strikes initially appeared to be separate incidents, though information remained scarce.
Read more: US air strike targets vehicle near Kabul airport 'carrying multiple suicide bombers'
Read more: Last troops touch down in UK as PM pays tribute to 'heroic' British soldiers
It comes as the US winds down a historic airlift that saw tens of thousands evacuated from Kabul's airport.
After an affiliate of the so-called Islamic State in Afghanistan, Isis-K, killed more than 180 people, the Taliban increased security around the airfield as the UK ended its evacuation flights on Saturday.
Joe Biden warned on Saturday that another attack on Kabul airport, where people are still being evacuated, was "highly likely in the next 24 to 36 hours".
Mr Biden said his team on the ground said the situation continues to be "extremely dangerous", as pictures showed the last British troops leaving Afghanistan on Saturday evening.
Prime Minister Boris Johnson called the end to Operating Pitting a chance to "reflect on everything we have sacrificed and achieved".
It was the largest British operation since the Second World War, lifting 15,000 from Kabul in a fortnight.
In the last two weeks 5,000 British nationals and their families, over 8,000 Afghan former UK staff and their families and many highly vulnerable Afghan people have been brought out of the country on over 100 RAF flights.
However, the government has faced some criticism after deciding to withdraw troops despite many people being left behind.
The Defence Secretary Ben Wallace said that the UK's obligation to those left behind "does not end with our leaving".
He said: "There will be many lessons to learn but over the last 20 years there are also endless examples of amazing achievements, bravery and friendships formed. We will not forget those who lost their lives."
This story is being updated