Questions raised over research suggesting jabs offer 'waning protection' against Covid
25 August 2021, 00:01 | Updated: 25 August 2021, 09:25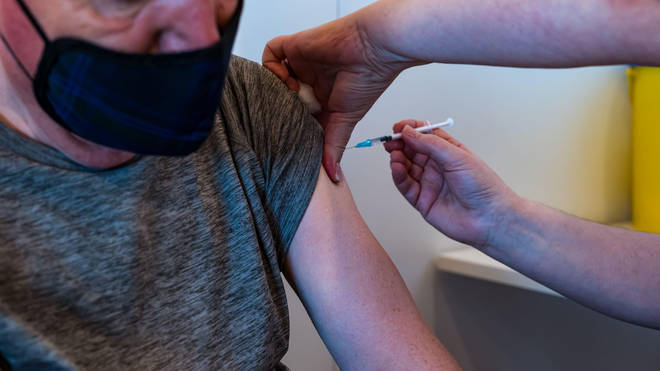 Scientists are urging people to keep getting the Covid jab after research emerged which suggested the effectiveness of the vaccines could drop slightly after several months.
Data from the Zoe Covid Study app suggests that after five to six months the protection from the Pfizer jab falls by around 14 per cent, and for AstraZeneca it falls by around 10 per cent.
But scientists have urged caution over the Zoe app data and have highlighted that the effectiveness of any vaccination would wane with time and that the results are expected.
Waning immunity against infection does not mean double-jabbed people are less protected against hospitalisation and death. 
Dr Simon Clarke, Associate Professor in Cellular Microbiology, University of Reading, said: "More robust data from other studies shows that while double vaccinated individuals are well protected against infection, and even better protected against serious disease, their level of immunity differs between individuals, and does dissipate over time."
"The ZOE app is a useful tool in monitoring people's symptoms and that is what it relies on for its data, but on its own it cannot accurately monitor the number of infections in the population, as some have claimed."
Prof Paul Hunter, Professor in Medicine, The Norwich School of Medicine, University of East Anglia, said: "One issue is how much of this decline is vaccine effectiveness is down to waning immunity and how much is due to the greater prevalence of the Delta variant which is known to be more resistant to prior immunity from vaccination.
Dr Julian Tang, Honorary Associate Professor/Clinical Virologist, Respiratory Sciences, University of Leicester, said the findings did not come as a surprise.
He said: "The current generation of COVID vaccines were designed against the original Wuhan virus variant - so of course they will be less effective against the delta variant than a COVID-19 vaccine designed specifically against the delta variant."
Professor Adam Finn of the JCVI said today that "other studies are showing maintenance of good protection against serious illness and hospitalisation.
"So that's encouraging actually that people who've had two doses are still very much well protected against serious illness, which is our main objective.
"But we do need to watch out very carefully to see if this waning begins to translate into occurrence of more severe cases because then boosters will be needed."
Lead scientist on the study Tim Spector says that a "worst case" scenario could see those who received their coronavirus jabs first - for example, elderly people and healthcare workers - having less than 50 per cent protection by the winter.
"In my opinion, a reasonable worst-case scenario could see protection below 50 per cent for the elderly and healthcare workers by winter," said Prof Spector.
"If high levels of infection [remain] in the UK, driven by loosened social restrictions and a highly transmissible variant, this scenario could mean increased hospitalisations and deaths."
Read more: Biden: Meeting Afghanistan evacuation deadline 'dependent' on Taliban cooperation
Read more: Claudia Lawrence: Police search gravel pits near York in hunt for missing chef
"We urgently need to make plans for vaccine boosters, and based on vaccine resources, decide if a strategy to vaccinate children is sensible if our aim is to reduce deaths and hospital admissions."
He added: "Waning protection is to be expected and is not a reason to not get vaccinated.
"Vaccines still provide high levels of protection for the majority of the population, especially against the Delta variant, so we still need as many people as possible to get fully vaccinated."
Across the UK, vaccines were rolled out among the older and the most vulnerable in society - along with health workers - before being offered to younger age groups across the UK.
This means the majority of people who had their second dose five to six months ago will be older or considered vulnerable due to other health factors.
The data therefore suggests these people are now likely to be at increased risk of Covid-19 compared to those vaccinated more recently - hence the need for a booster programme for these groups.
Read more: The Tiger Who Came To Tea 'could lead to rape and harassment', activist claims
Read more: Rolling Stones drummer Charlie Watts dies at age of 80
The study drew on more than 1.2 million test results and participants.
It used data from vaccines which were logged from December 8 last year to July 3 2021, and from infections which occurred between May 26 this year when the Delta variant became dominant, and July 31.
The figures showed that the Pfizer jab was 88 per cent effective at preventing Covid infection a month after the second dose - but this dropped to 74 per cent after five to six months.
Similarly, the AstraZeneca vaccine provided 77 per cent infection a month after the second dose, falling to 67 per cent five to six months later.
Both jabs had an initial effectiveness that was lower than the figures given after clinical trials, which is to be expected, and is partly because the jabs were not trialled against the now dominant Delta variant of the virus.
The results of this study have been adjusted to give an average risk of infection reduction across the population, and therefore researchers say that individual risk may vary due to person-to-person differences in antibody duration.
Researchers say that in order to confidently illustrate how vaccine effectiveness changes over time in different age groups, more data is needed over a longer period of time.