What time is Boris Johnson's press conference today and what is he expected to say?
21 December 2020, 14:14 | Updated: 21 December 2020, 18:40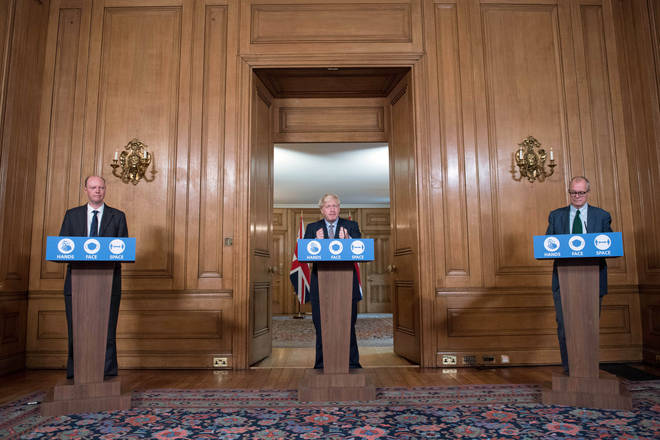 Boris Johnson led a Downing Street press conference on Monday afternoon as he sought to calm concerns over food shortages and reiterate his message of caution over the festive period.
The Prime Minister Boris Johnson held a press conference today at 5pm, covering topics such as the new coronavirus strain, food shortages and border closures.
Here's everything you need to know Boris' speech today:
What did Boris Johnson say at his press conference?
The PM said he had spoken with French President Emmanuel Macron and that the UK was working with France to resume freight travel between the two countries "as fast as possible".
Speaking at a Downing Street press conference, the Prime Minister said he had "a very good call" with French President Emmanuel Macron, but talks are ongoing to reopen the Channel crossing.
Transport Secretary Grant Shapps also explained that congestion on the M20 in Kent is being resolved, with the number of lorries waiting on the motorway down from 500 last night to 174.
Mr Johnson also revealed that more than 500,000 people in the UK have had their first dose of the Covid-19 vaccine.
The Prime Minister addressed fears about a new strain of the virus, saying the Government had taken "prompt and decisive action to curb the spread of the variant within the UK."
What time was Boris Johnson's press conference held?
The Downing Street briefing started as expected at around 5:00pm on Monday evening.
The PM was joined by Transport Secretary Grant Shapps and Chief Scientific Adviser Sir Patrick Vallance.
Click here to watch Boris Johnson's press briefing and follow our live coverage.
Read more: Coronavirus live: latest developments as Europe closes doors to UK
Read more: UK coronavirus travel restrictions: Which countries have banned UK flights?
Mr Johnson held an emergency COBR meeting earlier on Monday after a growing number of countries banned travel from the UK over fears about the new strain of coronavirus.
Haulage bosses warned over a possible "serious disruption" to UK Christmas fresh food supplies and exports of UK food and drink after France closed off borders.
However, the French government have said they hope to get freight moving through Dover "within hours", with drivers expected to need a negative PCR Covid-test before entry into the country.
Transport Secretary Grant Shapps told LBC the disruption around the Channel ports in Kent won't have an impact on the vaccine supply, which is not brought into the country via lorries.
Read more: Tier 4 shielding guidance: Who needs to shield and can people go to work?
Read more: London's streets deserted as capital plunged into Tier 4 restrictions
Read more: Sadiq Khan urges Boris Johnson to seek extension to Brexit transition period