Coronavirus: 'Many thousands' will become infected with Covid-19
10 March 2020, 08:15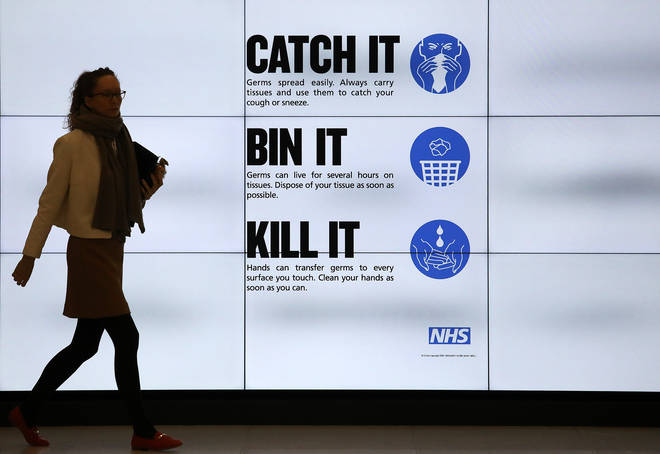 England's deputy chief medical officer says "many thousands" of people in the UK will become infected with coronavirus "in due course".
Dr Jenny Harries has also said the number of deaths will rise in the early stages of the coronavirus outbreak.
The top doctor spoke to LBC's Nick Ferrari, she said: "It is possible" that the "worst-case scenario" is that up to "80 per cent of people become infected."
Read more: Coronavirus symptoms - What are they and what is the risk of Covid-19 in the UK?
She said the UK was not at the "rocket phase" but health authorities were ready to manage a rise in cases when it happens.
Dr Harries said it would be likely "mild" for most people, but older people and those with underlying medical conditions were more at risk.
She said people should follow the safe hygiene messages the Government had issued to the public.
Read more: Coronavirus: Beard sanitiser sales spike after NHS urged staff to shave
Speaking to Sky News Dr Harries said: "We will have significant numbers in a way which I think the country is not used to... so large numbers of the population will become infected but because its a naive population, nobody has got antibodies to this virus currently."
Read more: Coronavirus UK: Do surgical face masks work to avoid virus symptoms?
"Having said that, 99% of those will almost certainly get better and most people will have a really quite mild disease and will not need to be in hospital and can be managed very safely and appropriately at home."
She added: "The important thing for us is to make sure that we manage those infections and make sure that those individuals who are most affected so are elderly people particularly those with chronic underlying conditions get in touch and get treatment and we support other people in the home environment."
Read more: Coronavirus: What is a pandemic and how is one declared?
Meanwhile, as LBC News reported, anyone with cold, flu or fever symptoms is likely to be asked to stay at home in self-isolation before too long, England's chief medical officer has said.
Read more: Brighton shop owner asks customers to wear masks and gloves amid coronavirus fear
Professor Chris Whitty said the number of cases in the UK is going up and pointed to tighter measures aimed at protecting the public, particularly the vulnerable and elderly.
Read more: Family self-isolated due to 'people's fears' over coronavirus
On Monday Prime Minister Boris Johnson told reporters the UK will almost certainly move to the delay phase of tackling coronavirus, while the Foreign Office warned against all but essential travel to Italy.
Currently, in the UK 319 people have tested positive for Covid-19 while five people have died in British hospitals.
Read more: 'Don't die, please buy' Glasgow newsagent sells out entire stock of coronavirus face masks