'Girl, 12, among six killed' after 6.4 magnitude earthquake rocks Croatia
29 December 2020, 12:09 | Updated: 29 December 2020, 17:05
A strong 6.4 magnitude earthquake has rocked central Croatia killing at least six, with reports of significant damage southeast of the capital Zagreb.
Scientists have said a 6.4 magnitude quake hit 46 kilometers (17 miles) southeast of Zagreb.
Authorities said a girl was among the six killed and at least 20 people were injured in the quake, including a man and a boy who were pulled out alive from a car buried in rubble and taken to hospital.
Tuesday's earthquake was reportedly felt throughout the country and in nearby Serbia and Bosnia.
This is the second quake in two days, with a 5.2 magnitude earthquake hitting the same area on Monday.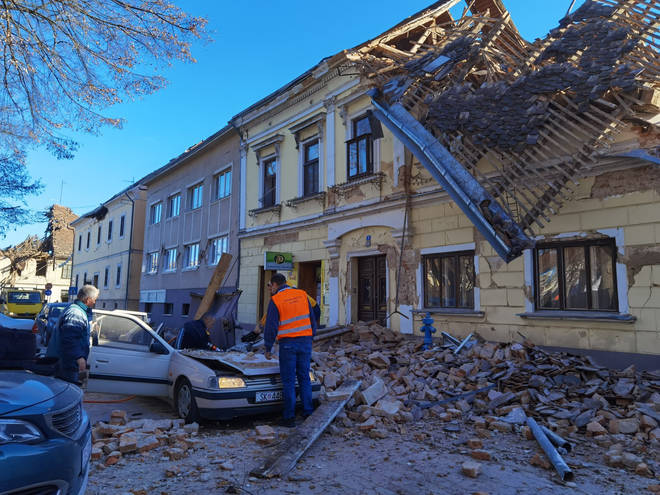 Images posted on social media showed collapsed roofs and rubble on the road in the town of Petrinja, south east of Zagreb.
Tena Šarčević from the Croatian Jutarnji list newspaper told LBC: "Here in Petrinja all the streets are damaged, everything is broken.
"As far as we know there is one girl who is dead, but a lot of people are injured.
"There are a lot of crashed cars, police, army and all emergency services are getting people out of the cars and things like that."
She added: "Across the whole city everyone is outside and there are still some earthquakes. They are not over, so the whole city is in panic and big fear."
"Me and my colleague were in the car and you couldn't see anything for like five minutes because of the dust - everything got broken. This one was a lot stronger than the earthquakes that happened yesterday."
In a statement broadcast by HRT TV, Petrinja mayor Darinko Dumbovic made a plea for help: "My town has been completely destroyed, we have dead children."
"This is like Hiroshima - half of the city no longer exists. The city has been demolished, the city is no longer liveable. We need help."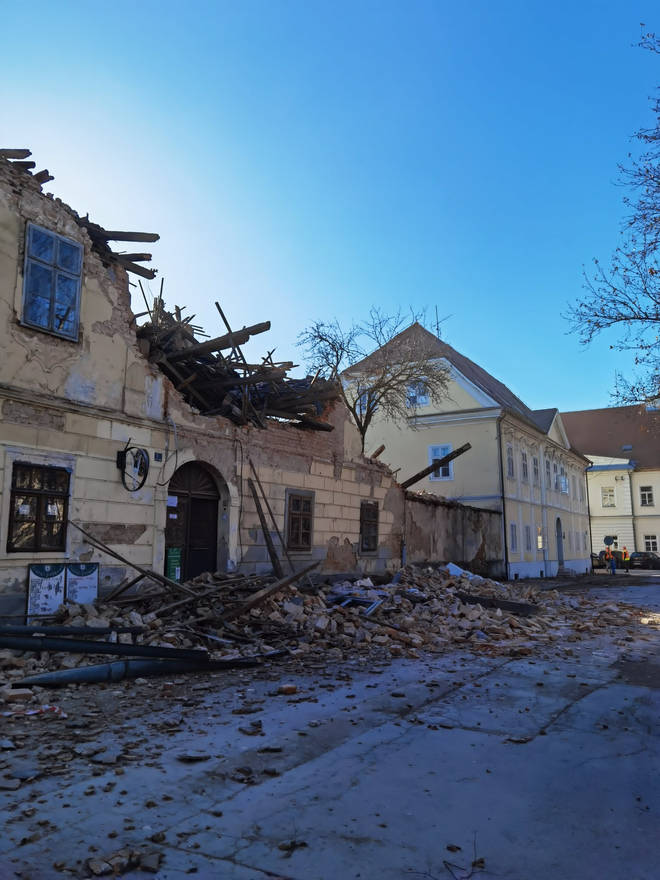 On Monday afternoon, Prime Minister Andrej Plenkovic and President Zoran Milanovic visited the town, which had already suffered damage from Monday's tremor.
European Commission President Ursula Von der Leyen tweeted that the EU was "following the situation closely and stand ready to help".
Ms Von der Leyen said she has asked Janez Lenarčič, European Commissioner for Crisis Management, to "stand ready to travel to Croatia".
After another powerful earthquake in Croatia, the 2nd in the past 2 days, I spoke with Prime Minister @AndrejPlenkovic again.

We are ready to support. I have asked @JanezLenarcic to stand ready to travel to Croatia as soon as the situation allows.

We stand with Croatia.

— Ursula von der Leyen (@vonderleyen) December 29, 2020
Croatian seismologist Kresimir Kuk described the earthquake as "extremely strong", far stronger than another one that hit Zagreb and nearby areas in spring.
He warned people to keep out of potentially shaky, old buildings and move to the newer areas of the city because of the aftershocks.
Ms Šarčević said they could still feel "small earthquakes, but it is not as horrible as those big ones".
"Everyone hopes that it is over now. We had a really big earthquake in Zagreb in March, so this has been a really difficult year for everyone in Croatia."