Ex-No10 chief accuses David Harewood of 'appalling language' as star says Braverman 'looks convenient' for Tories
27 January 2023, 08:59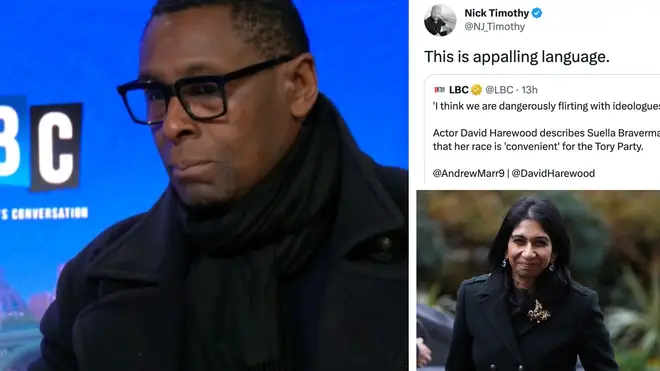 A former adviser to Theresa May and Conservative commentator has blasted David Harewood for "appalling language" after he described Suella Braverman as a "gatekeeper" for the Tories.
Nick Timothy, who was one of Mrs May's key advisers during her time at No10, hit out at the actor after he spoke about people from ethnic minority backgrounds in Government.
David Harewood – known for his turns in hit shows like Homeland – told LBC's Andrew Marr of the Government: "I think we're dangerously flirting with ideologues right now, who have no compunction to bring people together."
Asked about people from minority backgrounds in Government – including home secretary Suella Braverman – he said: "I think the likes of Suella – she's a gatekeeper.
Read more: 'Break down and you're a sitting duck': Drivers warned over 'extremely dangerous' smart motorway outage this weekend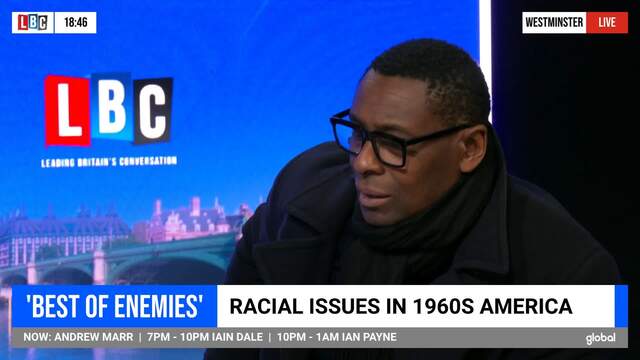 Actor David Harewood describes Suella Braverman as a 'gatekeeper'
"Once the establishment has someone who looks convenient, they are front and centre.
"Personally I feel no affiliation whatsoever. I don't think her race… we have no similarities at all.
"But I think it's very convenient for the powers that be she looks like that, she speaks like that, and I think in her circles she will probably do very, very well."
Read more: Jeremy Hunt vows to use 'British genius' to tackle 'declinism', with Tories still plagued by Nadhim Zahawi tax row
Nick Timothy, who was Mrs May's joint chief of staff in 2016 and 2017, hit back at the actor on Twitter.
"This is appalling language," he said.
Conservatives have pointed to the party's recent record in promoting women and people from minority backgrounds to the top job.
The party has provided Britain's only British Indian prime minister, and the first Hindu, and has given Suella Braverman and Priti Patel the home secretary role, one of the most important jobs in Government.
All three women PMs have also come from the party – something Tories have often deployed against Labour in fraught parliamentary debates.