Trump mocks Republican rivals urging them to stop 'wasting time' as candidates lock horns at debate
9 November 2023, 09:04 | Updated: 9 November 2023, 09:05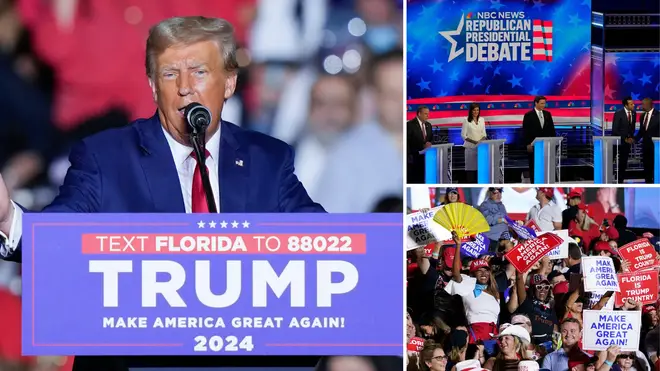 Donald Trump mocked his Republican rivals as "unwatchable" as they went head-to-head during a presidential debate.
The former US president was absent from the Republican presidential debate on Wednesday, as he slammed his nomination rivals for "wasting time".
Five qualifying candidates for the presidential nomination locked horns during the two-hour event.
But Trump, who continues to lead polls as the Republican frontrunner, held his own rally just miles away from the debate.
Speaking at his rally, Trump singled out candidates Ron DeSantis and Nikki Haley, labelling them 'Ron desanctimonious' and Haley 'bird brain'.
"Do you think we did the right thing by not participating?", he asked the stadium filled with thousands.
"Well listen, I'm standing in front of tens of thousands of people right now and it's on television. That's a lot harder than a debate."
Trump has repeatedly labelled nomination debates as B-list events.
He also spoke to the crowd of his four criminal indictments, which have resulted in 91 counts.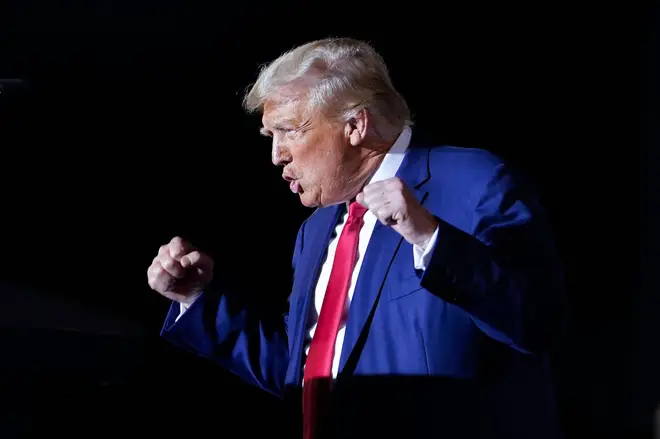 Read more: Ivanka Trump arrives at court as final witness in ex-President's civil fraud trial
Read more: Donald Trump brands fraud case a 'scam' after 'rambling' civil court appearance in New York
Trump likened criminal cases against him to political prosecutions in Cuba, in an apparent bid to win over Hispanic voters.
"Just like the Cuban regime, the Biden regime is trying to put their political opponent in jail," he told the stadium filled with thousands.
"We are not the ones endangering American democracy, we are the ones saving American democracy."
Trump also hit out at president Joe Biden, as he vowed to use executive power to target his rivals.
"I will totally obliterate the Deep State," he said.
"We will start by exposing every last crime committed by crooked Joe Biden because now that he indicted me we're allowed to look at him."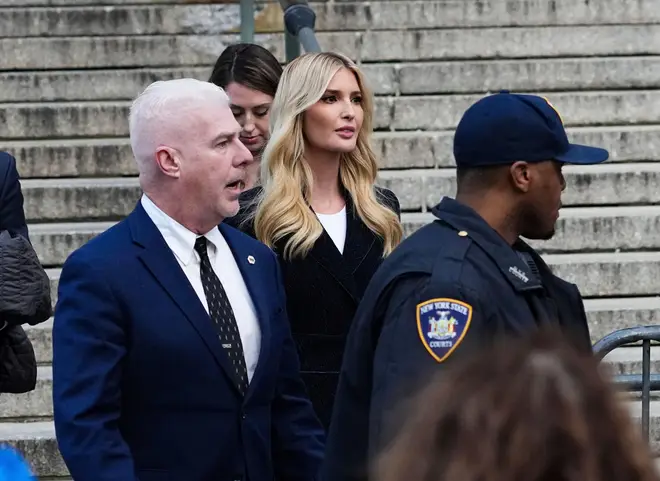 It came on the same day that Trump's daughter, Ivanka, took to the stand to testify in a $250m fraud trial against her father.
Ivanka had been dismissed from the case months ago but was ordered to testify at the end of October due to her involvement with the Trump Organization and having property in Manhattan.
The Republican presidential debate on Wednesday was attended by Ron DeSantis, Nikki Haley, Tim Scott, Chris Christie and Vivek Ramaswamy.
Trump is currently leading polls 44 per cent ahead of rival DeSantis, according to CNN's national poll, followed by Haley with just 10 per cent.
A fourth debate is set to take place on December 6.