Donald Trump suggests he won't sign 'wasteful' coronavirus relief package
23 December 2020, 06:21 | Updated: 31 December 2020, 10:14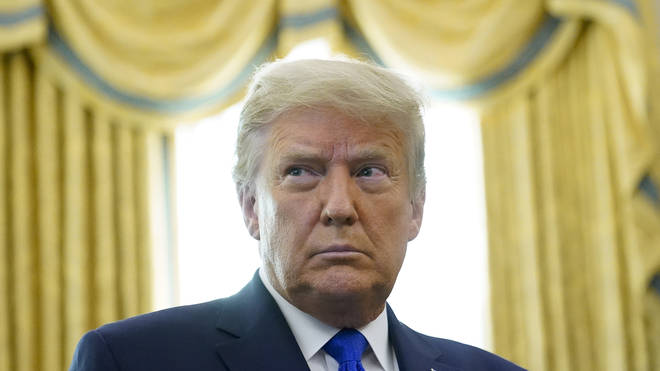 US President Donald Trump has suggested he may not sign the bipartisan 900 billion dollar pandemic relief package that was passed by Congress unless more money is delivered to Americans.
Mr Trump complained in a video on Twitter that the bill delivered too much money to foreign countries, but not enough to American citizens.
The bill provides for a 600 dollar (£450) payment to most Americans, but the president said he is asking Congress to amend the bill and "increase the ridiculously low 600 dollars to 2,000 dollars (£1,500), or 4,000 dollars (£3,000) for a couple.
"I am also asking Congress to get rid of the wasteful and unnecessary items from this legislation and to send me a suitable bill."
Read more: Republican US Senate leader congratulates Joe Biden on election victory
Read more: 'No evidence of widespread voter fraud', Trump's attorney general says
The relief package was part of a hard-fought compromise bill that includes 1.4 trillion dollars (£1.05 trillion) to fund government agencies until September and contains other end-of-session priorities such as money for cash-starved transit systems, an increase in food stamp benefits and about 4 billion dollars (£3 billion) to help other nations provide a Covid-19 vaccine for their people.
It sped through the House and Senate in a matter of hours on Monday as politicians worked to close the books on the year.
While many complained about being given so little time to read the bill, they overwhelmingly voted for it as local businesses and constituents seek economic relief from the pandemic
The Senate cleared the package by a 92-6 vote after the House approved it by another lopsided vote, 359-53. Those votes totals would be enough to override a veto should Mr Trump decide to take that step.
Also on Wednesday, Mr Trump pardoned 15 people including two men convicted of lying to investigators in a probe into the president's election campaign.
George Papadopoulos, Mr Trump's 2016 campaign adviser whose conversation unwittingly helped trigger the Russia investigation that shadowed Mr Trump's presidency for nearly two years, was among those pardoned.
He also pardoned Alex van der Zwaan, a Dutch lawyer who was sentenced to 30 days in prison for lying to investigators during special counsel Robert Mueller's investigation.
He issued the pardons - not an unusual act for an outgoing president - even as he refused to publicly acknowledge his election loss to Democrat Joe Biden, who will be sworn in on January 20.
Also in the group announced on Tuesday night were four former government contractors convicted in a 2007 massacre in Baghdad that left more than a dozen Iraqi civilians dead and caused an international uproar over the use of private security guards in a war zone.
Supporters of Nicholas Slatten, Paul Slough, Evan Liberty and Dustin Heard, the former contractors at Blackwater Worldwide, had lobbied for pardons, arguing that the men had been excessively punished in an investigation and prosecution they said was tainted by problems and withheld exculpatory evidence.
All four were serving lengthy prison sentences.
Last month, Mr Trump pardoned former national security adviser Michael Flynn, who had twice pleaded guilty to lying to the FBI, and months earlier commuted the sentence of another associate, Roger Stone, days before he was to report to prison.