Doncaster paraglider group who 'scared woman who mistook them for Hamas' brands her 'silly'
18 October 2023, 18:30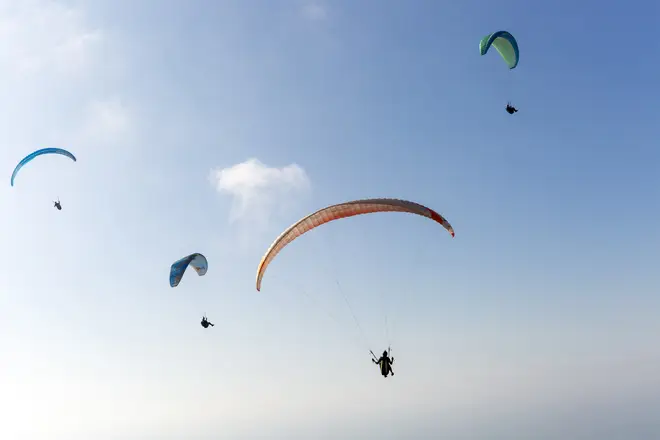 A paraglider group in Doncaster who scared a woman who thought she was under attack from Hamas have labelled her concerns "silly".
Paragliders soared over the skies above Armthorpe, near the Yorkshire town, over the weekend. One woman took to social media to express her outrage.
She wrote on social media: "Whoever thought it was funny to parasail over the village, it was in extremely poor taste.
"Take your twisted hatred somewhere else."
She was reminded of a Hamas attack which took place a couple of weeks ago in Israel, where the attackers used motorised paragliders to fly into a music festival.
Read more: 'I want to go home': Israeli woman, 21, kidnapped from festival pleads for release as Hamas posts first hostage video
Read more: Alicia Keys insists paraglider reference in online post 'completely unrelated' to Hamas attacks amid fan controversy
The local paraglider group in question said the woman's concern was "silly", according to the Jewish Chronicle.
"If there had a been a car bombing, would this woman be scared of every car she saw?
"We will keep flying, this hasn't put us off."
During the attack, Hamas fighters killed more than 200 people at the music festival near the Gaza strip border and kidnapped many others.
The vehicles the Armthorpe resident spotted were not from Hamas but were local parasailing enthusiasts.
Another local pointed out on social media: "They have been about for the last few weekends.
"I mean, I'm sure they'll be sorry they gave you a fright, but you can't be serious with this post?"
She responded: "Thought it was some kind of scare tactic or protest."
Some social media users have been making associations between parasailing and the Hamas attack.
In a now-deleted post on Instagram, Alicia Keys expressed her interest in taking up paragliding as a hobby.
A number of people responded to the post, concerned that it was a reference to the Hamas attack.
The singer later posted on her Instagram story: "The post I shared was COMPLETELY unrelated in any way to the recent devastating loss of innocent lives. My heart has been breaking…. I pray for and stand for peace."