Drink-Driver Leads Police On 15 Mile Chase Reaching Speeds Of 100mph In A Transit Van
16 October 2017, 11:27 | Updated: 16 October 2017, 12:48
A 26-year-old man has been jailed after trying to drunkenly escape police in a transit van.
A reckless drink-driver who led police on a terrifying motorway chase hitting speeds of 100mph in a transit van has been jailed for nearly two years.
Curtis Stewart, 26, was captured in dramatic dash-cam footage dangerously weaving around other vehicles as he fled from officers on the M6.
Traffic cops attempted to box the motorist in, but he drove up a grass verge before reversing onto an unlit area of the carriageway and speeding away.
A court heard he reached speeds in excess of 100mph in the van near to Junction 5 for Castle Bromwich, Birmingham, at around 4am on August 15.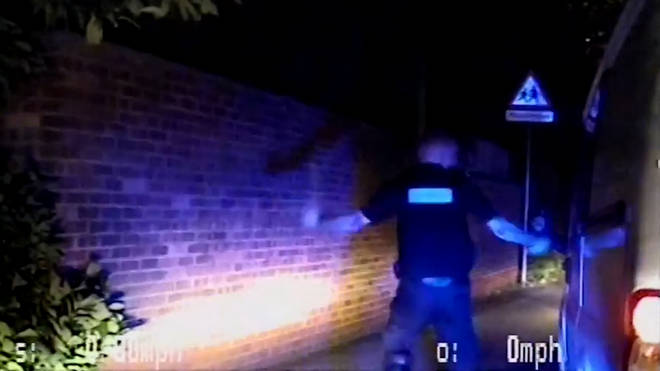 He then left the motorway 15 miles later at Junction 3 for Coventry where he hurtled through two sets of red lights at 70mph in a 30mph zone.
Stewart, of Holbrooks, Coventry, was eventually arrested when he stalled the van and was found to be one-and-a-half times over the drink-drive limit.
On Wednesday (11/10) he admitted two charges of dangerous driving and was jailed for 23 months at Warwick Crown Court.
PC Mitch Darby, from the Central Motorway Police Group (CMPG), was one of the officers involved in the pursuit.
He said after the case: "His driving was shocking.
"He was first spotted by a police dog unit in Birmingham doing over 70mph and going through red lights, and that was without a police car behind him.
"He drove up an embankment before temporarily reversing down the M6 and just missed a stinger when he exited the motorway.
"He then drove the wrong way over a blind humpback bridge.
"It was his appalling driving which ultimately stopped him when he was boxed in after slowing for a corner. It was lucky he didn't have an accident."
Watch the chase at the top of this page.