Elon Musk says AI is 'one of the biggest threats to humanity' as he jets in for UK summit
1 November 2023, 16:40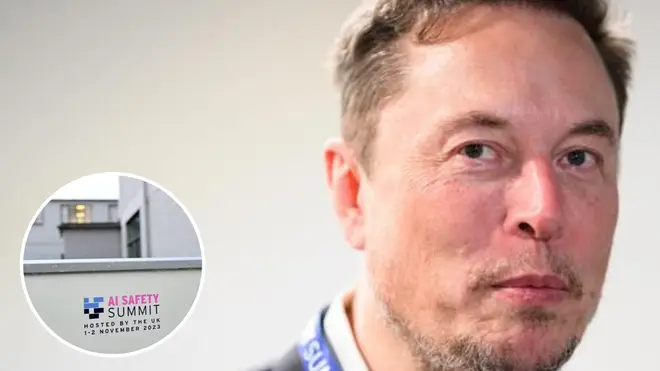 Elon Musk has said that artificial intelligence is one of the biggest threats to humanity, after arriving at the UK's AI safety summit.
The Tesla founder and Twitter owner, who has previously been critical of AI, said the conference was "timely" because of the "existential risk" that the technology poses.
Mr Musk is attending the world's first AI safety summit, which is being held over two days at Bletchley Park in Milton Keynes.
The event is being attended by world leaders, civil society and tech giants, who are discussing the potential risks of AI.
He said he hoped event attendees could establish an "international consensus" and create a "third-party referee" to serve as an AI watchdog.
Read more: King Charles warns AI risks need to be addressed with 'urgency, unity and collective strength' in surprise summit speech
Read more: Artificial intelligence already working one million hours a year for police, as concerns raised over criminal 'AI race'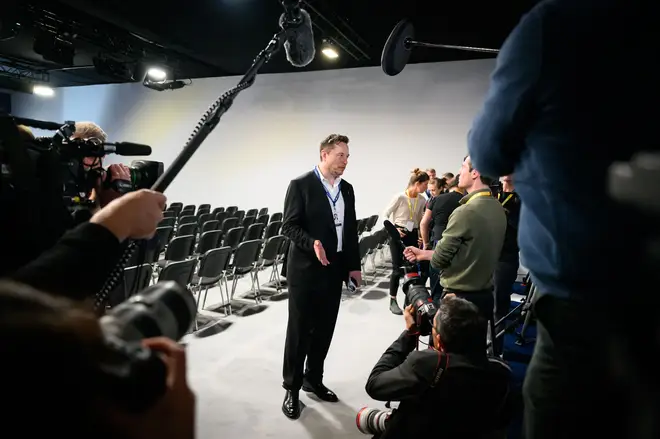 Mr Musk told attendees: "I think AI is one of the biggest threats [to humans].
"We have for the first time the situation where we have something that is going to be far smarter than the smartest human.
"We're not stronger or faster than other creatures, but we are more intelligent, and here we are for the first time, really in human history, with something that is going to be far more intelligent than us.
"It's not clear to me if we can control such a thing, but I think we can aspire to guide it in a direction that's beneficial to humanity.
"But I do think it's one of the existential risks that we face and it is potentially the most pressing one if you look at the timescale and rate of advancement - the summit is timely, and I applaud the Prime Minister for holding it."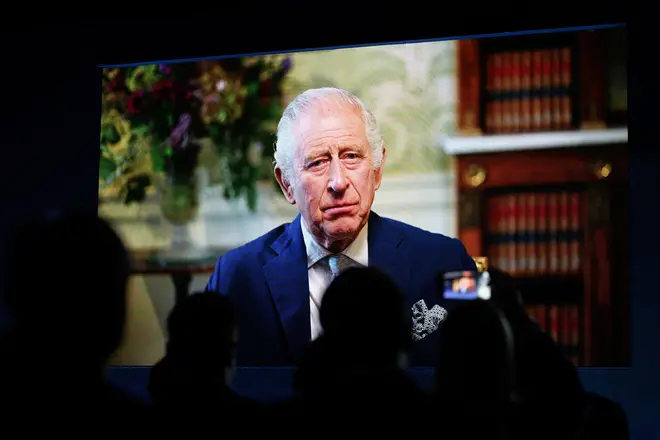 US Vice President Kamala Harris is among the global leaders in attendance, alongside Musk and other tech firms including Amazon, Google, Meta and Microsoft.
King Charles, who also attended the event, warned that AI risks need to be addressed with "urgency, unity and collective strength" as it continues to rapidly evolve.
Delivering a virtual speech at the summit, the King said AI was "no less important than the discovery of electricity, the splitting of the atom, the creation of the world wide web or even the harnessing of fire".
He said it had the potential to "better treat or even cure" cancer or Alzheimer's disease.
But he said to "realise the untold benefits of AI" there also had to be a effort to combat significant risks.
"There is a clear imperative to ensure that this rapidly evolving technology remains safe and secure," he said.
"And because AI does not respect international boundaries, this mission demands international coordination and collaboration."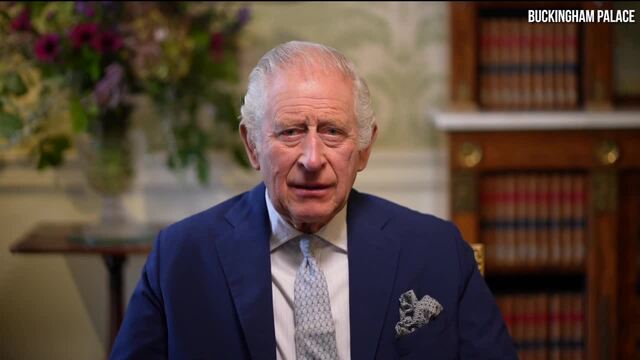 The King delivers a virtual address at AI Safety Summit
Twenty-eight countries including the US and China have signed an agreement for a a shared understanding of the opportunities and risks posed by frontier AI".
The Bletchley Declaration also sets out the need for "governments to work together to meet the most significant challenges" it poses".
Despite Mr Musk's warning of the dangers of AI, Met communications chief Sir Nick Clegg warned against heavy-handed regulation.
The former Liberal Democrat deputy Prime Minister said that threats about the end of civilisation were overblown, but said governments needed to co-operate on tackling risks to elections from AI-created disinformation like deepfakes.