Stranger Things Star's Powerful Speech Against Trump's Travel Ban
30 January 2017, 07:42 | Updated: 30 January 2017, 07:43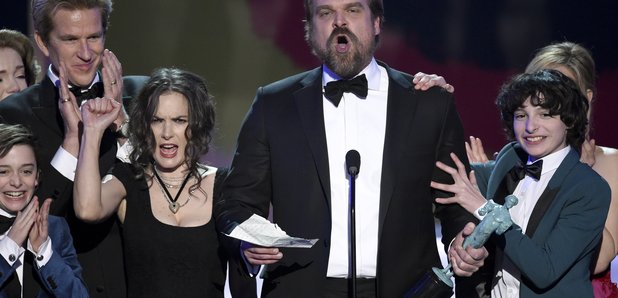 Stranger Things star David Harbour gave a powerful speech against Donald Trump's "Muslim ban" as he collected an award for the Netflix show.
Celebrities whooped with joy as the actor laid into what he sees as damaging immigration policies by the new President.
With the rest of the cast, such as Winona Rider and 12-year-old Briton Millie Bobby Brown, increasingly excited by his words, Mr Harbour passionately shouted from stage: "As we act in the continuing narrative of Stranger Things, we 1983 Midwesterners will repel bullies.
"We will shelter freaks and outcasts, those who have no home. We will get past the lies. We will hunt monsters!
"And when we are at a loss amidst the hypocrisy and the casual violence of certain individuals and institutions, we will, as per Chief Hopper, punch some people in the face when they seek to destroy the weak and the disenfranchised and the marginalised!
"And we will do it all with soul, with heart, and with joy. We thank you for this responsibility."