Pfizer vaccine documents accessed in EU medicines regulator hack
9 December 2020, 16:13 | Updated: 9 December 2020, 20:30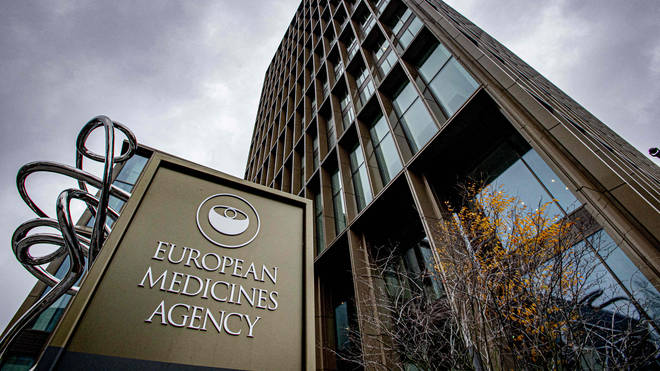 The European medicines regulator currently working on the approval of two Covid-19 vaccines including Pfizer's has been hit by a cyber attack.
Pfizer-BioNTech coronavirus vaccine documents have been "unlawfully" accessed in the hack of the European Medicines Agency, the pharmaceutical giant confirmed.
An investigation into the incident is ongoing, with help from law enforcement, but it is not yet clear whether people's data has been compromised.
The EMA has access to quality, safety and effectivity data on trials carried out by pharmaceutical researchers.
A spokesperson for the agency posted a short statement on the group's website, saying: "EMA has been the subject of a cyberattack.
"EMA cannot provide additional details whilst the investigation is ongoing. Further information will be made available in due course."
"The Agency has swiftly launched a full investigation, in close cooperation with law enforcement and other relevant entities."
The announcement gave no detail on when the attack took place and it did not comment on who carried it out.
Cyber attacks on healthcare and medical organisation have become more prevalent during the coronavirus pandemic as hackers, including state-backed spies and cybercriminals, seek to access information about the virus and research into it.
Individuals have also been warned to remain vigilant during the pandemic and in the weeks leading up to Christmas as more people go online for health reasons and shopping.
Last month, Microsoft said it had detected attempts by state-backed Russian and North Korean hackers to steal valuable data from leading pharmaceutical companies and vaccine researchers.
Microsoft said most of the targets - located in Canada, France, India, South Korea and the United States - were "directly involved in researching vaccines and treatments for Covid-19''.
It did not name the targets but said most had vaccine candidates in various stages of clinical trials.
Listen & subscribe: Global Player | Apple Podcasts | Google Podcasts | Spotify