Ex-Premier League ref Mark Clattenberg 'forced to flee Egypt over safety fears'
25 January 2023, 20:59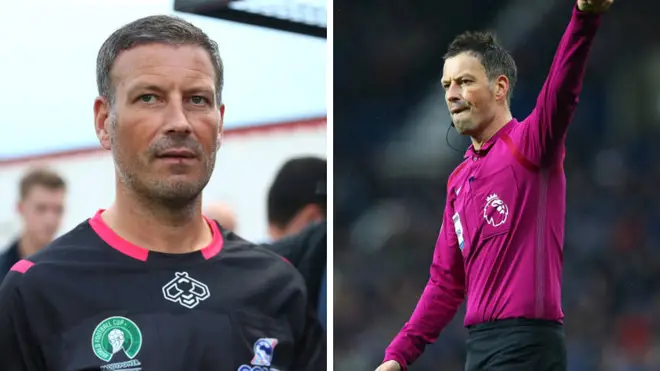 Former Premier League referee Mark Clattenburg has reportedly been 'forced to flee from Egypt over safety fears'.
The Englishman, who was head of the country's refereeing committee, had been hit with harsh criticism from Zamalek Sporting Club president Mortada Mansour.
Mr Mansour has been open in his unhappiness with the top ref's role in Egyptian football, and has incorrectly claimed that Mr Clattenburg had left his wife to start a gay relationship.
In one TV appearance, Mansour described the British ref as a 'bribed man' and suggested that he matches to certain referees so as to ensure the games finished early.
Read more: Boris Johnson 'had no influence on Germany sending game-changing tanks to Ukraine', says ambassador to UK
Read more: Elle Edwards heartbroken dad carries her coffin into her funeral after she was shot dead on Christmas Eve
All claims made against Mr Clattenburg are entirely baseless.
Mr Clattenburg, 47, also received threats from Zamalek supporters which is what prompted him to leave the country, The Sun reported.
It's also said that the league was changing his referee appointments, and he was concerned at the amount of poor decisions made by some officials.
Overseas referees are flown in for big games in the country, but Mr Clattenburg was having problems in getting top officials to agree to come.
The senior ref, who arrived in August, reportedly hasn't been paid for two months.
He's thought to have been earning around £32,000 per month.
The Egyptian FA has confirmed it has accepted the prominent match official's resignation.
It said in a tweet: "The Board of Directors of the Egyptian Football Association decided, in its emergency meeting today, Wednesday, to accept the resignation of Mark Clattenburg."
The governing body of football in Egypt added it will "instruct the legal affairs of the federation to take the necessary measures to preserve the rights of the federation and the consequences of his resignation in accordance with the terms of the concluded contract".
Egyptian outlet Al-Ahram reported that the country's football association were "surprised" by Mr Clattenburg's decision to quit.
The FA denied that refereeing appointments had been changed and said it would "support his return".
It also claimed Mr Clattenburg's concerns over his safety were 'an exaggeration', calling the country the "safest in the world".
Egyptian lawyer Khaled Abu Bakr has called on the Egyptian PM and MPs to launch an immediate probe into the accusations of corruption against Mr Clattenburg, stressing the potential damage that this situation could do to Egyptian football's reputation and sport as a whole.
Clattenburg left the Premier League in February 2017 to become head of refereeing in Saudi Arabia and has also worked in in China and Greece.