Family's CCTV Shows Neighbour Smashing In The Windows Of Their Car
22 October 2017, 13:41
Shocking video footage shows an angry man smashing the windows of his neighbours' family car after an argument, causing £6,000 of damage.
This shocking video footage shows an angry man smashing the windows of his neighbours' family car following a long-running row, causing £6,000 damage.
Dean Lally, 36, can be seen thugishly walking around the vehicle and repeatedly striking the windows with a bike lock until they break - as the frightened family look on in horror through the CCTV system in their home.
After shattering most of the windows, he can be seen throwing the "D-lock" across their front lawn while mouthing verbal abuse at the camera and gesturing aggressively with his arms.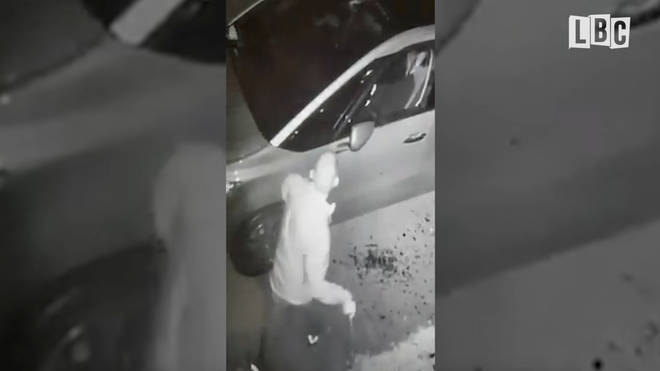 Dennis Johnson, 54, had installed a CCTV system at his home on the same day that neighbour Lally put through the widows of his 2017 Citreon C4 Grand Picasso, valued at £30,000.
Police arrested Lally at the scene and he was charged with causing criminal damage to the vehicle.
He pleaded guilty to the offence when he appeared before Wigan and Leigh Magistrates Court.
Lally was given a 12-month community order with 100 hours' community service and he was also ordered to pay £500 in compensation to Dennis.
However, magistrates resisted an application for a restraining order to be made in the case, it has been confirmed.
Speaking after the court case, father-of-four Dennis, who is disabled and suffers from Spondylosis affecting the discs in his back said he and Lally had fallen out in the months leading up to the incident.
This had eventually escalated to abuse being hurled in both directions on a number of occasions, he admitted, but he was shocked by what he witnessed.
He said: "I was speechless.
"It was after midnight and my 11-year-old daughter came down the stairs saying 'Dean's outside smashing the car up.'
"I couldn't believe she was witnessing it - he was screaming abuse at the house.
"My six-year-old lad was really upset - he thought he was watching a horror film."
Although Lally has been prosecuted for the attack, Dennis now lives in constant anxiety that he will attack his home again.
He said: "I don't feel like I've been protected.
"I don't want him jailed but he is living next door and he could do something like this again."
Watch the clip at the top of this page.