Over 100 people evacuated after blaze in south east London tower block
3 July 2022, 13:49 | Updated: 3 July 2022, 17:30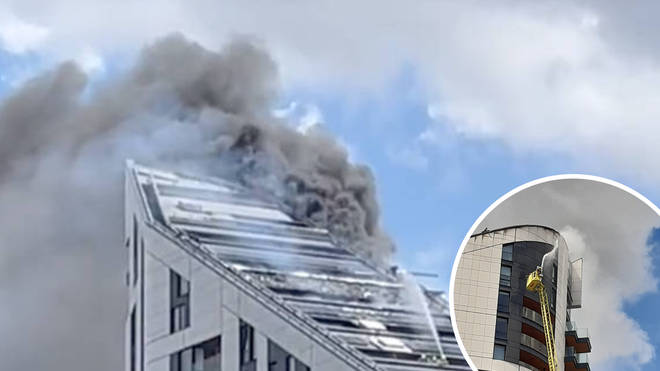 Around 120 people were evacuated after 100 firefighters tackled a fire at a 19-storey block of flats in south-east London.
A total of 15 fire engines were at the scene of the fire in St Mark's Square, Bromley, London Fire Brigade (LFB) said.
Half of a five-room flat on the 15th floor of the block was alight and part of the roof was also on fire.
Firefighters were called at 11.58am. It took them more than four hours to battle the fire, which was officially under control at 4.08pm.
There were no reported injuries.
Raquell Viamonte, 22, who works at a restaurant in St Mark's Square, said it was "terrifying" when the fire broke out.
She said: "It was quite stressful. I had to deal with quite a lot of customers, kick them out and refund their orders.
"The fire alarm started ringing and by the time I walked out there were firefighters running around everywhere.
"It was terrifying."
Read more: 'Dangerous' eco protesters storm track at British GP after '3-car pile-up' halts race
Read more: Second woman killed by shark off Egypt's red sea coast
Brent Bautista, 17, who lives with his parents and younger brother on the 11th floor, said: "I reckon it was around 12 something that the fire alarm started to go off on the ground floor and everyone evacuated.
"However, apparently the fire alarm on the 11th floor did not go off at all so everyone was literally getting evacuated but we were just standing there not knowing what to do, so we just had to come down by ourselves anyway."
He said a sprinkler system seemed to activate on the floor above, pouring water down to his flat.
He added: "I just remember we were cooking there and the sprinklers just went on and the balcony was drenched so we didn't know what to do at that point so we gathered everyone and just started walking downstairs because obviously the lifts weren't working at that point because of the fire."
The brigade's 999 control centre received 95 calls alerting them to the blaze, which was described as "very visible" by the LFB.
Fire crews came from Bromley, Beckenham, Addington, Woodside, Lewisham, Forest Hill, Sidcup and Croydon and surrounding fire stations.
The cause of the fire is not known.
Footage posted on social media showed flames and black smoke coming from one part of a slanted roof.
Further footage showed firefighters on the roof with the flames apparently extinguished.