First confirmed London coronavirus patient turned up to hospital in an Uber
13 February 2020, 15:49 | Updated: 13 February 2020, 21:18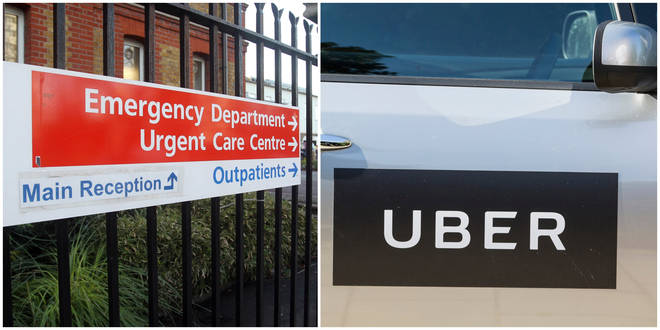 The first patient to be diagnosed with coronavirus in London arrived at Lewisham hospital in an Uber, it has been confirmed.
The unnamed woman, who is a Chinese national who recently travelled to the UK from China, presented herself at the reception of the hospital yesterday afternoon.
She was then sent home until her test results came back, before being taken to St Thomas' Hospital to receive treatment for the illness, which has been officially named Covid-19.
According to the Guardian, her manner of arrival has not put other patients at risk of infection despite going against public health officials' advice.
Ben Travis, chief executive of the Lewisham and Greenwich NHS trust, told staff: "We wanted to let you know that we have had a confirmed case of coronavirus from a patient who self-presented at the A&E department of University hospital Lewisham (UHL) last Sunday (9 February).
"The test result was confirmed as positive yesterday (Wednesday 12 February) and we have been in touch with all staff who came into contact with the patient. The patient went to [a specialist unit at] St Thomas' yesterday evening, so we are now able to update all staff."
Mr Travis added: "In this case, the patient self-presented at our A&E. As soon as the patient did this, the patient was given a mask and then escorted to be tested in the dedicated area we have assigned for coronavirus testing outside the A&E building – while awaiting the installation of a purpose-built 'pod'.
"As further assessment was required, the patient was then taken to a dedicated isolation room in the emergency department.
"In line with our protocols, throughout their care the patient was escorted and did not come into contact with other patients. The patient was later discharged and taken home by London ambulance service."
Dr Rachel Thorn Heathcock, consultant at Public Health England, said: "We are in contact with Uber to ensure the driver receives advice and information on what to do should they feel unwell in the coming days.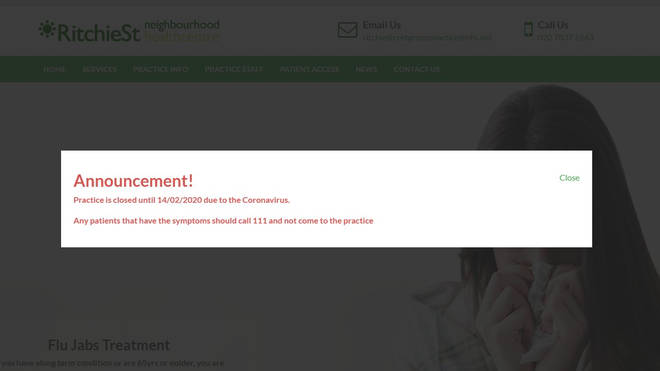 "As the journey was less than 15 minutes, the driver did not have close sustained contact with the individual and are not considered high risk."
An Uber spokesman said: "We received a request from Public Health England for information about a passenger who has now been confirmed as having coronavirus. Out of an abundance of caution, we temporarily suspended the account of the driver who transported the individual to hospital, and we remain in close contact with Public Health England.
"We have a dedicated online portal for public health authorities to contact Uber for information about riders and drivers, and we will take action on any user accounts on the recommendation of those authorities."
A GP surgery in Islington has also been closed over fears of the virus.
An alert on the Ritchie Street Health Centre website says: "Practice is closed until 14/02/2020 due to the coronavirus. Any patients that have the symptoms should call 111 and not come to the practice".
At the time of writing, nine people in the UK have been diagnosed.
In China 1,355 people have now died from the virus, and more than 60,000 infected.
NHS Chief Executive Sir Simon Stevens warned that many more people in the UK may need to self-isolate in a bid to stop the spread of coronavirus.
He said: "As our first group of guests leaves Arrowe Park Hospital, we want to thank them for the highly responsible, pragmatic and stoical way they have played their part in keeping both themselves and others safe.
"They have set an important example, recognising that over the coming weeks many more of us may need to self-isolate at home for a period to reduce this virus's spread."