Manchester MPs write to PM in protest at plans for three-tier covid rules
11 October 2020, 13:10 | Updated: 11 October 2020, 15:00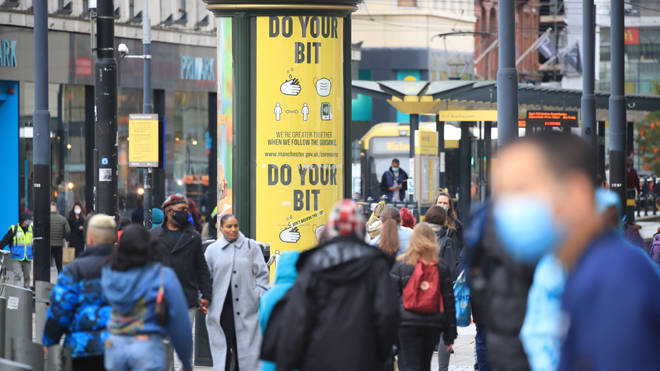 Five Manchester MPs have written to the Prime Minister to argue against his plans to impose a new 'three-tier' set of restrictions that will apply to cities in the north of England.
Lucy Powell MP, Jeff Smith MP, Mike Kane MP, Afzal Khan MP and Graham Stringer MP wrote to Mr Johnson and the Chancellor to object to the city being placed in 'tier three' saying blanket closures to hospitality and other proposed measures will not work to stop the spread of coronavirus.
The letter states: "We understand the difficult decisions involved. However we are very concerned that the proposals for blanket closures in hospitality and other measures would not meet this objective [keeping the virus under control].
"The data on where infections are occurring would not seem to support a rationale for your proposed measures.
"As you will know, a large proportion of our recent increase in infection are amongst our student population, now being managed in confined 'households' mostly in halls of residence."
Mayor of Greater Manchester Andy Burnham said northern leaders are still in discussion with the Government on more restrictions as he again criticised the Government's response to the pandemic amid a growing north-south lockdown row.
He said the test and trace system was "failing" and had been all year.
Mr Burnham said: "We are powerless to change that, a system that's not working for us and then the Government comes along and asks to put us under more restrictions, its not acceptable for us to be left in this position."
The leader of Manchester City Council, Sir Richard Leese, said there were "great difficulties" for Labour leader Sir Keir Starmer and the party's MPs to not be seen to be opposing measures to tackle the pandemic, such as the 10pm curfew in pubs.
He added: "But at some point, given frankly the job that Government have done so far in tackling Covid-19, given until this week, unwillingness to properly co-operate with local government, this is the first time we've had any discussions in eight months, any real discussions with Government over eight months, I think at some point the Labour Party in Parliament has to say, 'Enough is enough, we can't support this'.
"Clearly at the same time putting a realistic alternative."
The row came as a further 32 people tested positive for coronavirus died in hospital in England, bringing the total number of confirmed deaths reported in hospitals to 30,471, NHS England said on Sunday.
Patients were aged between 54 and 100 years old. All but one patient, aged 65, had known underlying health conditions.
The deaths were between March 28 and October 10. Most were on or after October 8.
Seven other deaths were reported with no positive Covid-19 test result.