Flooding sparks widespread disruption as thunderstorms hit London
25 July 2021, 17:36 | Updated: 26 July 2021, 12:41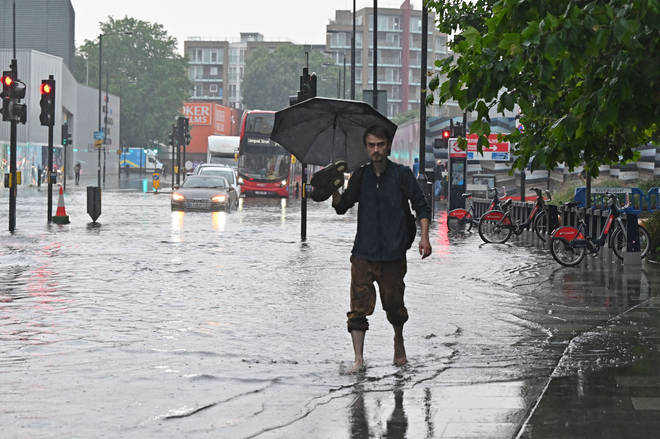 Severe flash flooding sparked widespread disruption across London as thunderstorms hit on Sunday.
Two hospitals were forced to ask patients to use other A&Es due to flooding while images posted on social media showed waterlogged roads and submerged cars as parts of the capital ground to a halt.
Whipps Cross Hospital in Leytonstone said it was experiencing "operational issues due to the heavy rainfall", while Newham Hospital said its A&E department had been partially flooded.
Parts of east London were particularly badly affected but the issue was widespread. Many homes were flooded and multiple roads were closed.
The London Fire Brigade said it had received 300 calls in just a few hours and warned people to avoid driving and walking in floodwater.
Mayor of London Sadiq Khan tweeted: "Local emergency services, @LondonFire, and @MetPoliceUK are responding to significant flooding across London.
"If you're travelling, check your route as multiple @TfL bus, tube and rail services are affected.
"Avoid walking or driving through flood water. In an emergency, call 999."
The Central Line and London Overground saw significant closures and delays in east London due to flooding, as did TfL rail.
Eight Tube stations and one Overground station were closed.
Greater Anglia said trains would no longer be stopping at stations in the east London area.
The Met Police Roads and Transport team tweeted: "We are currently dealing with numerous floods on the east, currently Greenman tunnel is closed, please avoid this area and take care on surrounding roads, Redbridge roundabout is also flooded."
It added: "We also have the A12 closed, slip road to the A406 Northbound, please avoid this area and stay safe and find alternate routes, the subway is also flooded."
The Blackwall Tunnel was also closed.
Jamie Curtis said he had to drive through water that was "12 to 18 inches deep" while driving through Clapham Common on this way to his home in Hampshire.
"(I've) not seen that level of flooding in London before," the IT consultant added.
Eddie Elliott cycled past the area outside Queenstown Road station, Battersea, where he said the road had been "totally shut down".
The 28-year-old writer said: "Having been born and raised in London, I have never seen anything quite like it."
"Stands out as the worst I've experienced personally... totally shut down the whole road with buses stood broken down in the water."
The Metropolitan Police Special Constabulary added on Twitter: "If you see deep water, please DO NOT try to get through. Rescuing people uses a lot of resources, and so it's wiser to apply good judgement and find a different route."
An amber Met Office warning for London and some of the Home Counties, where homes and businesses were at most risk of flooding, lasted until 7pm on Sunday.
Storms are set to continue until Monday.
A yellow warning for storms which could cause travel and power disruption also covered a wider area of the south from Norwich to Plymouth.
Met Office meteorologist Steven Keates said the storms are being caused by a "convergence" of air currents, due to warmth in the earth's surface from the recent heatwave rising into cooler air in the atmosphere.
It comes after lightning set fire to houses in Andover, Hampshire, on Saturday morning, forcing residents to leave.